The Restoration of Nell Gwyn (York Theatre Royal)
Ensemble and York Theatre Royal's co-production of The Restoration of Nell Gwyn begins and ends with two of Henry Purcell's most sublime compositions, "Fairest Isle" from King Arthur and Dido's Lament, both very well sung by Elizabeth Mansfield to her own guitar accompaniment. The opening, indeed, is a beautifully judged piece of theatre, with Angela Curran (Margery, Nell Gwyn's maid) making the most of a witty rhyming prologue and busying herself about the place as Mansfield moves us in song.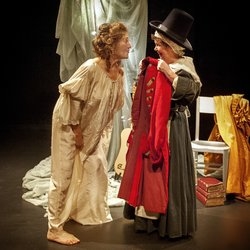 What follows is less striking, though never less than entertaining, a pleasant and intelligent diversion. Charles II is dying – there is no secret about this, the time-line in the programme disproves any prospect of a happy ending –, women are excluded from his sick chamber and Nell wishes to see him, partly to protect herself in the future. Nothing much happens. Nell and Margery fret about the King and deliver their own personal narratives; Nell dresses up as a man (she was always good at breeches parts) and tries, unsuccessfully, to see Charles; a final revelation about Margery's father provokes none too convincing social commentary.
Through it all Steve Trafford's script is polished and attractively allusive: his taste for baroque-styled metaphors is always pleasing. On a factual level he makes good use of historical information, but the overall picture never quite convinces. Despite the chamber pots and plague symptoms, it's a little bit polite.
Elizabeth Mansfield as Nell Gwyn is accomplished, stylish, sympathetic, but lacks the boldness of spirit that her historical predecessor undoubtedly possessed. Angela Curran is excellent as Margery – a perfect link to the audience with her droll asides, moving from a child of suffering and pragmatic survivor to second cousin to Blackadder's Nursie – but the character can't quite bear the historical weight Trafford gives her.
In a simple and effective setting Damien Cruden directs with economy and holds audience interest without straining the two-hander format. I have no doubt that audiences throughout its seven week tour will find much to enjoy, but I'm not sure that it does full justice to a witty, courageous, honest and independent-minded woman whose famous exclamation, "I'm the Protestant whore!" – often hinted at here – was a cheerfully irresistible put-down to a mob bent on violence.
The Restoration of Nell Gwyn can be seen at York Theatre Royal until 25 October 2014 and then tours until the end of November. For full tour details visit
www.ensemble-online.com