Review: Macbeth (Shakespeare's Rose Theatre)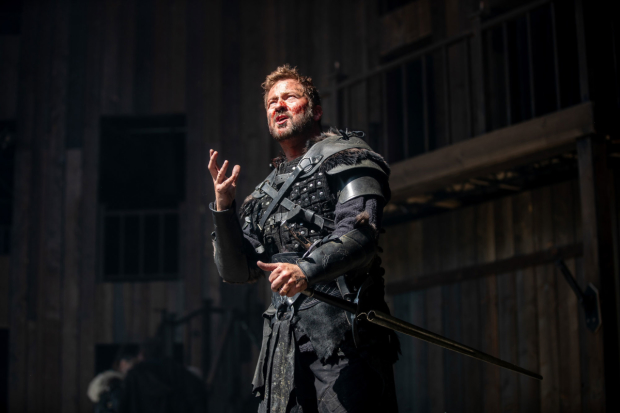 A visit to Shakespeare's Rose Theatre at York proves to be a splendid experience, but, in the case of Macbeth, the production at the heart of it is decidedly disappointing.
Director Damian Cruden writes in the programme about "the true star of the show – Shakespeare's Rose Theatre" – and he's right. As Irving Berlin put it on a different occasion, everything about it is appealing. As a pop-up Elizabethan theatre it is surprisingly comfortable and has a wonderful combination of space and intimacy. The stage lacks a true forestage, but is three-tiered with linking steps which also enables the action to flow easily onto the theatre floor. The setting, adjacent to the majestic Clifford's Tower, and the amiable welcome in the "village" of bars, food stalls, etc., make for a unique experience.
However, it's not always easy to be certain what Cruden's interpretation of the play is. He makes much of the frequently cut part of Hecate, conflating Hecate, Lady Macbeth's Gentlewoman, Seyton and, quite possibly, a few other servants. The result is a brooding female servant presence (Amanda Ryan does it rather well) whose sparing speech tends to be robotic or insolent and who finally stands by Malcolm as a sharer in his triumph. As Hecate she gives the three witches their scripts. They are also Banquo's murderers, with the Gentlewoman/Seyton figure supervising them, and change servants or murderers to witches by assuming masks. It's all very clever, but what does it mean?
Despite a fair bit of doubling, there's a generously large cast, though the structure of the season proves unhelpful here to Macbeth. Two casts operate at the Rose, doing two plays each, and the pairing of Macbeth and A Midsummer Night's Dream means that there are rather more female actors than female parts – and unfortunately Damien Cruden's solution doesn't really work. There is no daring replacement of a leading role with a woman and a confusing policy towards the gender of the characters.
That said, it is a mostly straightforward Macbeth, playing a pretty full text (though there seem to have been last-minute cuts to the act four England scene), rather lacking in pace, but making excellent use of the whole theatre space.
Macbeth (Richard Standing) and his lady (Leandra Ashton) are simply not strong enough or able to convince us of their capacity for evil. He is honest and direct, but really only engages with the verse in act five. She begins as rather suburban, but is more expressive than her husband while tending to resort to gesture to reveal her feelings. Mark Holgate's dour Banquo doesn't really register, but there are good performances as Duncan and Macduff. Fine Time Fontayne's dignified King is paired with a disturbingly knockabout Porter and Paul Hawkyard's forthright thane lifts the potentially boring scene in England with Malcolm.
Macbeth is not an easy play to put over on a bright summer evening (A Midsummer Night's Dream on a sunlit afternoon holds all the cards), but, as the sun fades, there are powerful effects around the cauldron with the apparitions – and throughout the evening Chris Madin's percussive, expressive score (played live on the stage's third tier) calls up the darkness and intensifies the drama.