Prince Igor (Novaya Opera, Coliseum)
It's over 20 years since Bernard Haitink conducted a revelatory performance of Prince Igor at Covent Garden and the Novaya Opera's current run at the Coliseum is a not-to-be-missed opportunity to hear an opera that is scandalously neglected in this country.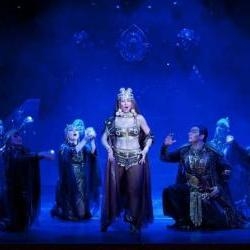 Anyone expecting little more than baubles, bangles and beads will be surprised at the quality of the music. Vladimir's cavatina (recorded so unforgettably by the great Jussi Björling) is a standout moment but is certainly not alone, with many fine set-pieces and a score of consistent beauty and invention. Even if it was cobbled together from Borodin's unfinished sketches and reconstructed by Glazunov and Rimsky-Korsakov, as the programme points out, it has a surprising unity.
This is very much the world of the Mussorgsky operas: troubled rulers, boyars, marauding invaders who threaten national sanctity and the epic sweep of Russian history.
What the Moscow company brings to the work is something that British audiences have almost forgotten and some still yearn for: a thoroughly traditional and representational approach to staging, which in the event may prove too much as it tips too often into the absurd.
The Royal Opera's production had much greater dramatic weight and there are wobbles aplenty in this Russian staging, as the balletic gestures and stage-stomping soon pall. While the first half excites with a refreshing traditionalism, the second begins to resemble ENO's production of Kismet (not a good thing, for those who missed that episode in the company's history).
The grand gestures, largely unseen at this venue for decades now, are well-crafted in the early part of the work and fascinate for their rarity value but descend into chuckle-raising absurdity during the latter stages. The hauntingly beautiful chorus that abruptly ends the work (in this version) is presented with the utmost stillness and simplicity and goes some way to redeem the production's integrity.
It's certainly an evening of several halves, but what maintains the must-see appeal is a fine musical performance under Brit Jan Latham-Koening's baton and strong singing throughout. Borodin's score is glorious, with the best-known bit, the well-worn Polovtsian Dances, thrillingly delivered, as long as the gaze is averted from some atrocious choreography.
The singers deserve to be named, although they'll mean little to the London audience, except perhaps to the large ex-pat turn-out. On the first night they were Sergey Artamonov (Igor), Elena Popovskaya (Yaroslavna), Aleksey Tatarintsev (Vladimir), Evgeny Stavinsky (Galitsky), Vladimir Kudashev (Konchak) and Agunda Kulaeva (Konchakovna).
Despite the old, old style director Yuri Alexandrov opts for, this is a new company, formed in 1991 (so around the time the opera last received a home-grown revival in London) and this brief run represents its first visit to the UK.
It has its flaws but Novaya Opera's Prince Igor still gets a high recommendation from this reviewer, for the chance to experience a different if faintly-remembered way of doing opera but mostly for a thoroughly enjoyable score that screams out to be heard.