Jonathan Watkins' new dance-theatre adaptation of the classic Barnsley story Kes has swooped into Sheffield.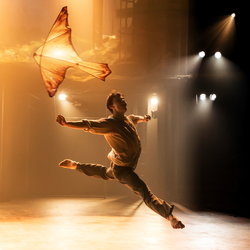 Soaring emotive music, staccato, flawless movement and contrasting, dramatic lighting communicate the passionate experience of our protagonist Billy Casper, as we follow his rite of passage from boy to man as he learns about love through unconventional means.
Ever the professional, I bought and watched the DVD of Ken Loach's 1969 film adaptation of Barry Hines' 1968 novel A Kestrel for a Knave in preparation for this review. I was hoping to refresh my memory of the plotline, but little did I know that my viewing was essential homework.
While dance is an intriguing and experimental medium for the portrayal of this story, it left – in my opinion – gaps in the narrative, which assumed a pre-existing working knowledge of the plot.
For example, when Billy encounters a librarian who is unwilling to give him a book about falconry, and they wrestle with a piece of paper, it is not entirely obvious that the reason he is unable to loan the book is because he hasn't got a parent's signature to join the library. Those unfamiliar with the plot may be perplexed as to why he was refused the book.
Similarly, later in the story when Billy's half-brother Judd is furious with him for wasting his betting money on fish and chips and meat for the kestrel, the two boys fight over a piece of green paper which is presumably the betting slip. Judd's rage is because the horses he asked Billy to place bets on for him have in fact won.
Whilst I believe in the power of suggestion on the stage, and the necessity of showing rather than telling the audience, I don't think the betting-slip scenario would be overly obvious to those unfamiliar with the story of Kes. It may appear to such audience members that the boys were merely fighting over a slip of green paper.
The tragedy at the end of the play is handled delicately and sensitively. The bond between man and bird has been exposed so explicitly and the choreography of Billy is skilful in its portrayal of grief and loss.
A bleak backdrop of the Barnsley countryside, comedy moments such as the over-animated football coach, the magnificent puppetry of Rachael's Canning's hand-held Kes and the soaring presence of the kite-version bring depth and feeling to the story.
In conclusion, I would strongly recommend this daring and innovative reworking of this classic South Yorkshire story, but in all honesty I would suggest that a basic understanding of the plot is essential prior to viewing.
Kes continues at the Crucible Theatre Sheffield until 5 April 2014