Review: Falstaff (Garsington Opera at Wormsley)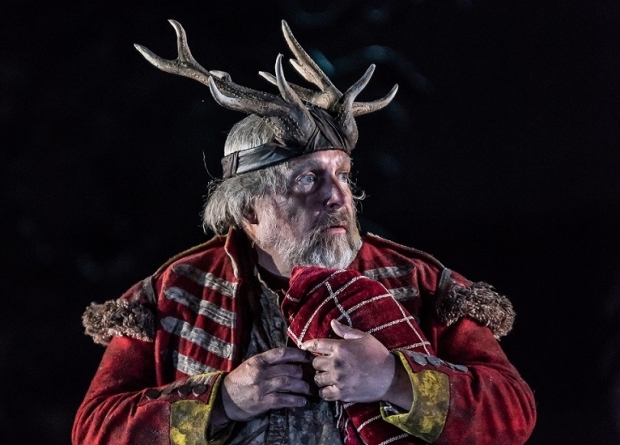 Great on paper, even better in performance, Garsington Opera's flagship offering lives up to its billing as this summer's country house talking point. With inventive Pollock Toy Theatre sets by Giles Cadle matched to Bruno Ravella's whipcrack, wit-packed direction, all that remains is to populate Falstaff with the cream of (mostly) British talent and it'll be job done.
And so it is.
Connoisseurs of trapdoors and transformation scenes will relish the visual richness of Ravella's early-20th-century update, while the reinvention of Shakespeare's women as bastions of female emancipation is inspired – it adds a spice of revenge against the men's sense of sexual entitlement.
Richard Farnes and the Philharmonia Orchestra treated Garsington's perspex theatre to a regal interpretation of Verdi's last opera. The plush sounds emanating from the pit felt like a gift for being good, while as ever with this conductor the interpretation never wavered from the ideal. Farnes made light of the score's intricacies and projected its energy with a tireless sense of joy.
The opening scene might have benefited from greater zip from everyone, however. Verdi sets up Falstaff's catastrophic romancing plans in a scene that pits his anti-hero against the dullest comprimario characters in his cast – even though Colin Judson (Dr Caius), Adrian Thompson (Bardolfo) and Nicholas Crawley (Pistola) do their considerable best to make them breathe – and as an expository intro it needs more interventionist help than it receives here. Full marks, though, to pint-sized Ansh Shetty for earning a sackful of laughs as Falstaff's page.
Thereafter the production oozes class. Mary Dunleavy and Victoria Simmonds score as Alice and Meg Ford, Yvonne Howard locates all Mistress Quickly's irony and Oliver Johnston simpers appropriately in his undercharacterised role as the lovelorn Fenton.
Three special performances raise this retelling of The Merry Wives of Windsor to the heights. Baritone Richard Burkhard, an artist who never ceases to astonish, is unrecognisable as the jealous Ford, a man it can be dangerous to cross. Bewigged and attired like Gene Wilder's Willy Wonka, Burkhard's delivery of "È sogno o realtà?" bristled with rage and brimmed with technical brilliance.
As Ford's daughter Nanetta, Soraya Mafi continues her traversal of the young soprano repertoire in radiant style. Her disguise as the Queen of the Fairies tied in nicely with her Tytania of a few months ago, especially when she summoned her fairy helpers ("Sul fil d'un soffio etesio") to the fat knight's final humiliation at Herne's Oak. This silver-voiced young star is well on her way to a glittering career.
Ravella's production overflows with invention, but his idea of turning Falstaff into an oversized maypole takes the biscuit. The sight of Henry Waddington trussed up in ribbons will remain imprinted on my brain: as degradations go it has a certain style. The grand bass-baritone, like Burkhard one of this country's true operatic heroes, is a wonderful Falstaff: a human chaos of huge booms and tiny gestures, and a natural disaster waiting to happen. A touch more twinkle in his countenance and he'll have it all.