Review: The Wind in the Willows (Rose Theatre Kingston)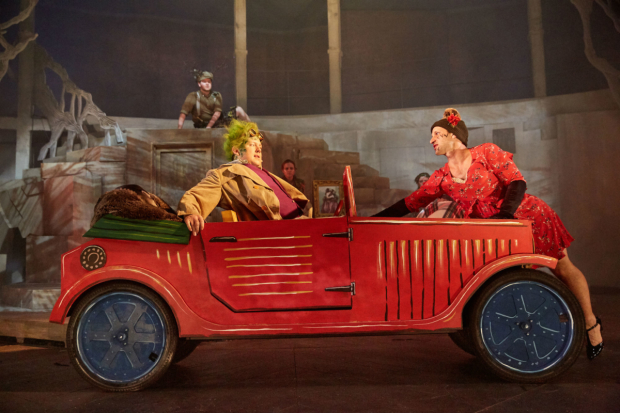 One might not expect to find this year's turbulent politics represented in a children's show about an arrogant toad (although a certain President Elect does spring to mind) but, as the show's director and adapter Ciaran McConville explains, Kenneth Grahame wrote The Wind in the Willows in response to turmoil.
Recovering from an assault and having sent his son to boarding school, Grahame penned the story as a personal escape and a didactic tale for his child. This production follows Grahame's lead, offering a whimsical world of amphibious petrol heads and picnic-loving rats, but also an exploration of the struggle between tolerance (represented by our peaceful riverbank-dwelling heroes) and hatred (seen in the terrorising Wild Wooders who launch an attack on Toad Hall).
At the centre of it all are the plucky Ratty, Mole and Badger, who lead the defence of the riverbank, and the irrepressible Mr Toad, who larks about stealing cars, insulting police and generally making things infinitely more difficult for his friends. The four actors responsible are a joy to watch. Emma Pallant and Gary Mitchinson as Ratty and Mole have a heart-warming chemistry, and Derek Elroy is kind yet commanding as wise old Badger. But it is Jamie Baughan who steals the show as Mr Toad, melding preposterous vanity, entitlement and foolishness with infuriatingly winning charm. They are supported by an excellent adult cast as well as 23 talented youngsters from the Rose's Youth Theatre company, who bring acting chops well beyond their years.
And while the story has a tendency to meander like the river at its centre, McConville's adaptation is, on the whole, utterly enchanting. Each animal group is precisely and inventively characterised – the hedgehogs are meek people pleasers, the otters reluctant carnivores – there are plenty of gentle jokes, and the lyricism of Grahame's writing is maintained in the show's narrated sections.
McConville's direction is just as good; lively, witty, sensitive and packing a contemporary political punch, not least thanks to Peter Todd's inspired costumes, which combine references to various historical dictators in Chief Weasel's uniform. Elsewhere, Todd brings sophistication and humour to the show's anthropomorphisation: Mrs Otter is a Home Counties matriarch, while the rabbit family look like harassed London commuters. Subtle movement direction from Jamie Neale, meanwhile, ensures we never forget the characters' wild origins.
Eamonn O'Dwyer's score is packed with gorgeous harmonies – soaring thanks to strong singing from the cast – and heaps of fun. Listen out for Toad's Christmascarol medley, featuring some cheekily-placed instances of his favourite motoring catchphrase ('angels from the realms of… POOP!').
But the most magical element in this captivating show is surely Timothy Bird's projections, which shimmer over his clever wooden set of trapdoors and twisting trees. With the wave of a narrator's hand, Bird conjures a swirling river, a tumble of autumn leaves, a rickety bridge, or the magnificent Toad Hall. The effect is repeatedly breathtaking.
The show may nod to the tricky year we've seen but it is, above all, a reminder that anything is possible. And that's a very comforting thought with which to face 2017.
The Wind in the Willows runs at Rose Theatre, Kingston until 3 January.