Werther (Royal Opera House)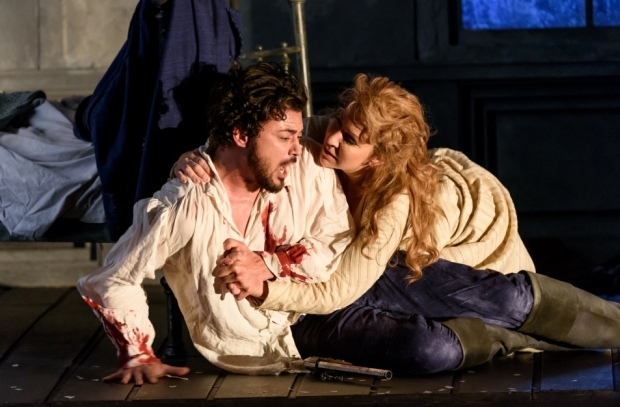 Poor old Werther: so madly in love with the unattainable Charlotte that he kills himself. It's one of the simplest plots in opera (and that's not really a spoiler, because it's a one-way journey from the start) but Massenet's opera needs a starry central couple to bring it off.
Joyce DiDonato and Vittorio Grigolo? That'll do.
With Antonio Pappano in the pit and HD cameras due next week, this revival of Benoît Jacquot's 2004 production—only its second—was always destined to be a season showpiece.
Both singers are making their role debuts in a staged production of Werther and there are moments when that shows. The great mezzo's uncompromised engagement with Charlotte causes the odd moment of over-singing when she pushes hard and veers fractionally sharp; the gregarious Grigolo occasionally forgets he's in a French opera and emotes 'à l'italienne'.
These are small faults that will settle down during the run, and anyway they don't stop the pair from living this relentlessly demanding score with the emotional fire and musical fluency that is their hallmark. Together they make the case for Werther as one of the great romantic operas.
'Pappano's warm account of the score'
Jacquot's staging, designed and lit by Charles Edwards and revived here by Andrew Sinclair, begins unpromisingly with an opening act that misses all the tricks. It is ultra-realistic, which will please the conservative Royal Opera audience, but beyond a secure sense of period (the 1780s) the director fails to project the essential exposition that's inherent in the writing. It's Charlotte's motherly way with her younger siblings that should attract Werther's sentimental eye, but the children here are directed with such lack of imagination that their personalities go unexplored. Here a piggy-back, there a ring-a-roses, everywhere a cliché from the Ladybird book of childhood.
This over-populated opener, with its cameo for a kindly old bass-baritone as Le Bailli (Jonathan Summers ticks that box), yields four comprimario roles that are exceptionally well taken. David Bizic is suitably stoic yet never unsympathetic as Albert, Charlotte's soon-to-be-husband, his earthbound presence and full-toned baritone a perfect foil for Grigolo's airy tenor.
Heather Engebretson, too, is ideal in the hard-to-cast role of Sophie, Charlotte's teenage sister, with a soprano voice that's nicely edged with childishness while being stylishly musical and fully controlled. And an excellent vocal pairing of François Piolino and Yuriy Yurchuk flesh out the thankless Schmidt and Johann, early-day exposition ciphers, with some expressive 'back-acting' at the start of act two.
As for Pappano and the ROH Orchestra, everything about their warm account of the score, subtly shaded and light on its feet, serves to belie Massenet's unwonted reputation as a purveyor of musical gluten. Grigolo has never sounded better, for all the Mediterranean curclicues in his performance, and he succeeds in projecting the extent of Werther's amour fou like few others. Indeed, the tenor's passion for DiDonato's magnificently riven Charlotte persuaded me, for once, that he could conceivably survive imminent death for the whole of act four—even though logic should dictate otherwise—in order to buy a few precious moments with her. That's something only proper stars can do.
Werther runs in repertory at the Royal Opera House until 13 July.