Tristan und Isolde (Royal Opera House)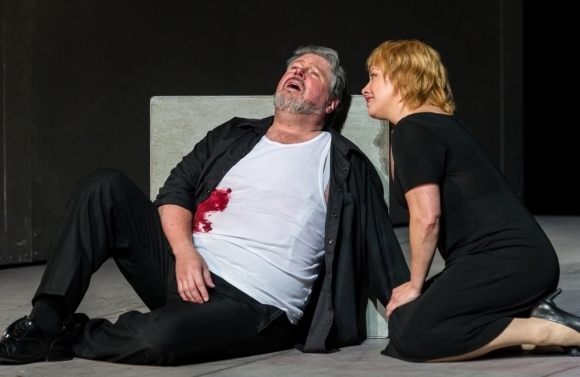 It's not an opera to be tackled lightly, and that goes for spectators as much as musicians. As
Stephen Gould
said in
his recent interview with WhatsOnStage
, the more audiences prepare themselves for a performance of
Tristan und Isolde
the more they can expect get out of it. Alas, to judge by the restive coughing that accompanied Alan Garner's sublime cor anglais solo at the start of act 3, not everyone at opening night had followed his advice.
Christof Loy's 2009 staging of Wagner's music drama, revived by the director with Julia Burbach, doesn't offer much help to the casual onlooker. Tristan is Wagner's toughest operatic nut at the best of times, but this production has the score as its engine with theatrical diversion coupled several wagons back.
The story of Tristan, King Marke's trusted knight, and his potion-induced love for the king's bride Isolde, is a 12th-century Cornish tragedy that Wagner borrowed in order to explore the extremes and absolutes of love. The music of his opera (set to his own libretto) has an ecstatic yet anguished eroticism. Its ingrained sadness suggests that love can curse life as well as bless it, for in this bewitched empire of the senses there are only two routes to peace: total togetherness or death. Alas, only one of these options is attainable to the lovers and so they embrace togetherness in death.
Loy's stage is in two sections. Upstage we glimpse the real world, represented by vestigial visions of Marke and Isolde's wedding reception, while nearer the audience, in an abstract milieu, the lovers' interior life unfolds.
It's a concept that makes big demands of the singers. Designer Johannes Leiacker's bare environment exposes them cruelly – one institutional table and chair are all they are given to interact with in the downstage area – and their characters' emotional nakedness must be exhausting to sustain with so slight a physical setting. Even Loy struggles with his stripped-back approach: ideas for character direction occasionally flounder across five hours, and he resorts to opera-house clichés of furniture abuse and grief-by-wall-clinging. But overall he does a remarkable job of underpinning rather than overwhelming Wagner's intentions.
'Nina Stemme is the reigning Isolde of our day'
Musically, starting from Antonio Pappano and the ROH Orchestra, this is a feast. The Royal Opera's music director takes a spacious view of the score, yet far from plodding it is cohesive and even airy. The odd first-night hiccup and some wispy violin moments were neither here nor there in the context of such a transcendent reading.
Iain Paterson and Sarah Connolly, star singers both of course, were impassioned and magnificent as Kurwenal and Brangäne respectively, while Neal Cooper was idiomatically splendid in his brief appearances as the turncoat Melot. As for John Tomlinson, who returns as King Marke, we owe him so much for what his voice once was and how he used it in his pomp, but the hallmark of true greatness is knowing when to call time.
Stephen Gould as Tristan has power and rigour to spare. He hit every note dead centre, no mean achievement for a Heldentenor in such a taxing work, and trusted himself to get his tone dirty during his third-act soliloquy. The intelligence of his interpretation was more than matched by a soprano beyond superlatives: Nina Stemme, the reigning Isolde of our day. The Swedish diva won an Olivier award when this production first opened and it's hard to imagine anyone eclipsing her in the foreseeable future. The second-act love music between Stemme and Gould was quite dizzying to hear; glinting in the blinding light of Wagner's vocal peaks they were sapphire and steel.