Tony Awards 2018 – a night for scrappy outsiders (and the $68 million dollar Harry Potter play)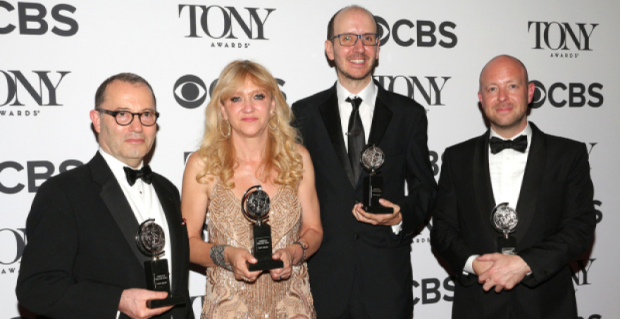 So there we have it. Harry Potter and the Cursed Child has won best new play awards on both sides of the Atlantic. The triumph of Jack Thorne, John Tiffany and JK Rowling's creation at the Tony Awards in New York last night defied the trend of the awards ceremony as a whole – which was to prefer small, scrappy outsiders to the great commercial juggernauts that dominate Broadway.
That's because Sonia Friedman's $68 million two-part production – the most expensive non-musical play ever mounted on the Great White Way – pulls off the most remarkable feat: it's a massive undertaking with the heart of an experimental one. It disguises all its effects with a deft brilliance, giving it an imaginative simplicity of staging and a directness of narrative that turn it into pure magic.
This must be the only time that the Tony play awards have gone to two two-parters, occupying a total of thirteen hours between them
So hurrah for all its winners: in addition to best play, HP took home prizes for best director (John Tiffany), costume, sound, set and lighting.
Hurrah too for the National Theatre and Marianne Elliott's astounding revival of Angels in America, which – in one of the most striking recent examples of exporting coals to Newcastle – revealed to its American home why Tony Kushner's epic is one of the great American plays of the 20th century – and probably of all-time – and won the best revival award in the process. Andrew Garfield and Nathan Lane picked up deserved acting gongs; Denise Gough was unlucky to miss out to Laurie Metcalf in the best featured actress category, one of the surprises of the night.
While I'm on the subject of the drama winners, let me float a tangential thought: this must be the only time that the Tony play awards have gone to two two-parters, occupying a total of thirteen hours viewing time between them. Which must say something about the willingness of voters and audiences to endure length in pursuit of depth.
But my third and possibly loudest cheer has to go to Glenda Jackson who returned to Broadway at the age of 82, after three decades away, and wins her first Tony (after four previous nominations) for her commanding performance as a 92 year-old in Edward Albee's 1994 masterpiece Three Tall Women. Hers is the kind of story that you need to pinch yourself to believe. You give up acting for 23 years to be an MP; when you decide to return to the stage you conquer it, first as a woman King Lear and then in Albee on Broadway. It is staggering and it makes you mourn the years theatre-goers have missed.
A good night for British theatre – and American inclusivity
The real story of the night though was the triumph of two small-scale outsiders in the musicals category. The Band's Visit, a gentle little piece about an Egyptian police orchestra stranded for a night in Israel defeated all comers in taking ten prizes of the 11 it was nominated for, including the best book of a musical award, which seemed to have Tina Fey's name written on it for her work on Mean Girls. Except that it didn't.
Then Once on this Island, described by Variety as the "scrappy little-show-that-could" claimed the best revival category, seeing off two classics, My Fair Lady (the night's biggest loser, winning only a costume gong) and Carousel (which won for Justin Peck's choreography and Lindsay Mendez's performance in the featured actress in a musical category).
That, and Robert de Niro's F-bomb outburst, were the two greatest shocks of a good night for British theatre – and American inclusivity.