Review: The Convert (Young Vic)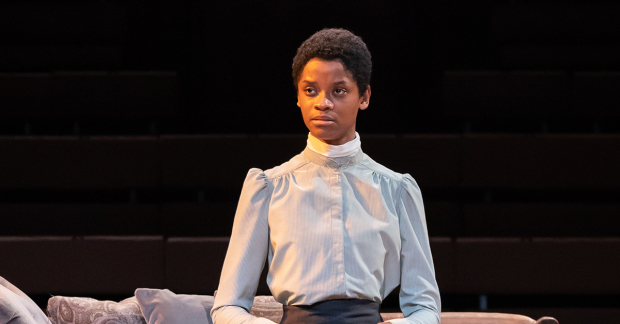 Two stars of Marvel's ground-breaking Black Panther have come together to make this production of The Convert such a powerful, thought-provoking experience. Danai Gurira (General Okoye) wrote the play in 2012, and it is revived here with a shimmering central performance from Letitia Wright (Shuri).
She plays Jekesai, a young girl growing up in Rhodesia (now Zimbabwe) in 1895. Chilford, a Roman Catholic teacher and missionary, who longs to be fully ordained as a priest by the British colonial power, rescues her from a forced marriage, calls her Ester, and demands that she abandon her family, her language (Shona) and her ancestral beliefs. As her conversion, adopted to save herself, becomes real, she grapples with a Gordian knot of belief and culture, at exactly the same moment as the Shona revolt against the oppression of the British.
The play is at once old-fashioned – a traditional three-act structure – and utterly radical. It forces you to look at history through the other end of the traditionally-shaped telescope; where the black characters in so many dramas are described by the white ones who dominate the stage Gurira (born in the US but brought up in Zimbabwe) makes the African experience the complex, riveting central one. It is revelatory and energising, utterly absorbing through each second of its long (almost three-hour) playing time.
Its most interesting strands weave around the arrival of Christianity in Jekesai's life. Her conversion frees her from tribal oppression; it gives her an education and a voice. By the conclusion, it lends her the courage to face a terrible choice. But it also makes her turn against her own family and her own people; how she can use that voice in a setting in which it is the white man who controls the Christian god?
The central character in many ways is not Jekesai, but Chilford (Paapa Essiedu), the man raised by missionaries since childhood, "a black tragedy" in his imperfect adoption of European manners and elaborate language, someone who believes that the Shona people are savages. His position in this clash of culture and religion (which has echoes of Brian Friel's Translations) is thrown into further relief by the outspoken Prudence, a pipe-smoking, feminist and by the louche Chancellor, a chancer who is using his education and his European sophistication to work for the mine-owners.
I have some reservations about the play; it moves from drama into melodrama towards the end and throws in so many stories and so much incident that its most interesting characters and themes are slightly occluded. Naomi Dawson's rising and falling gauze box of a set also bothered me. It works beautifully symbolically, suggesting the restriction and liberation of Jekesai's world view, but it does obscure the action and makes blocking difficult.
But I have absolutely no doubts about the fineness of all other aspects of Ola Ince's magnificently-acted production. It held me in its grip from its opening moment when Jekesai arrives in Chilford's neat living room full of natural grace and curiosity, to its close when, her movement constrained and broken yet still beautiful, she finds her own resolution to the conflicts engulfing her.
Wright is just a marvel, watchful and wonderful, quite often standing absolutely still but conveying worlds with her eyes, her expression or a flex of the hand. Each character's level of Europeanisation is delicately described; Wright's journey from Jekesai to Ester and back is carefully detailed and deeply moving.
In Chilford, Essiedu paints a picture of a man literally bound by his beliefs. He stands ramrod straight, only his hands twitching by his side. His ready access to deep feeling makes his voyage of discovery profound. There are moments when you hate Chilford and his attitudes, but Essiedu never lets you forget the honest, troubled man beneath his adopted skin.
Both are given rich support by Luyanda Unati Lewis-Nyawo as the outspoken, unexpected Prudence, Ivanno Jeremiah as the smooth-talking Chancellor, Rudolphe Mdlongwa's rebellious and vital Tamba and Pamela Nomvete as the housekeeper Mai Tamba, making her own accommodation with Catholicism while never abandoning her ancestors.