Speed-the-Plow (Playhouse Theatre)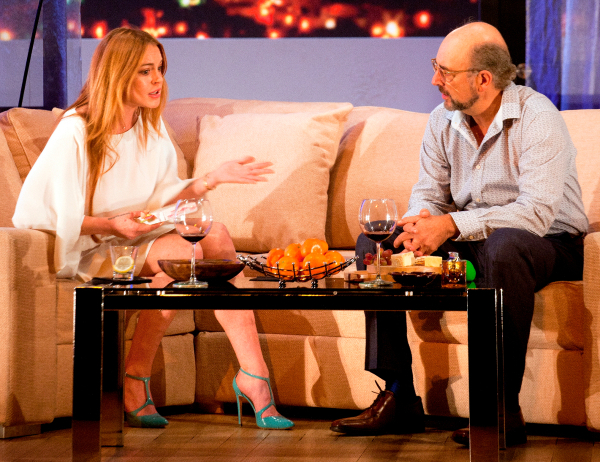 Lindsay Lohan, supposedly seeking some sort of redemption by making her stage debut in a tricky and technical David Mamet play, certainly isn't pulling her punches. She gives Karen, the sexy temporary secretary in a movie producer's office, all that she's got.
Admittedly that's not very much, but she does have a smoky, alluring voice, looks the part, and is vacuously convincing enough to suggest that she really does believe that a New Age novel about radiation and the end of the world is just the Hollywood ticket; she gives the book a courtesy read (before it's returned to sender) and delights the producer, Bobby Gould, with a free night in the sack.
The trouble is, though, that Lohan moves around with marionette-like stiffness, hands flapping as if disconnected from her nervous system. She has no sense of playing to the audience, or embracing them – not until curtain call when, for some reason, she uncorks a phallic golden party popper – and when required to deliver the big tirade at the top of the second scene, she snatches at sentences, chopping them up into incomprehensible phrases, flicking desperately at a heavily marked volume (the novel) and taking – but only once – a very clear prompt.
The play is swiftly, brilliantly written in three short scenes but director Lindsay Posner inserts a needless interval after the first (presumably to bump up bar sales), destroying its rhythm. That rhythm anyway is threatened by the increasing suspicion that he's cast the two leads the wrong way round.
Bobby (Richard Schiff), after two days in his new job as head of production, is all set to green light a sex-and-violence prison-cell potboiler brought to him by his old buddy, and new underling, Charlie Fox (Nigel Lindsay), who's snared a top star from a rival studio. Nonchalantly giving Karen the novel, and laying a bet with Charlie that he can bed the broad that night, Bobby finds his own beliefs turned upside down.
Charlie's a rat-like, bitter old has-been, trailing his friend's good luck, but Lindsay makes him a bumptious, beaming flannel merchant, a line he pursues extremely well; Schiff, on the other hand, doesn't have the inner turmoil and glib exterior of Bobby Gould, not even that of Bobby's namesake, the unpredictable one-time soccer star for Arsenal, West Ham, West Brom and Wolves.
By my reckoning, this is the fifth London production of Mamet's blistering, ironic take on Hollywood values (oddly, the radiation apocalyptic movie now seems not implausible), art and commerce, deal and no-deal. It's not a patch on Peter Gill's 2000 West End version in which another untried starlet of the day, Kimberly (Father of the Bride) Williams, was absolutely perfect as Karen, or the 2008 Matthew Warchus Old Vic revival in which Jeff Goldblum as Bobby and Kevin Spacey as Charlie were definitive, electrifying, balletic. This is not so much Speed-the-Plow as hold your horses.