Review: Snow White (London Palladium)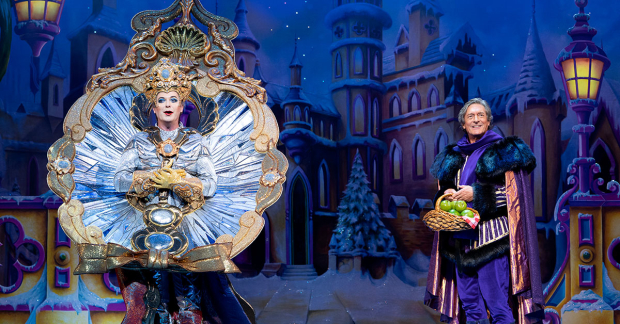 Is this the most lavish pantomime you'll ever see? Probably: from the eye-popping sets and jaw-dropping flying effects through to the glittery flights-of-fancy costumes to the gorgeous lighting and projections and a profligacy of star turns, this is an almost indecently lavish parade of theatrical excess. Is it the best panto you'll ever see? Well…probably not, especially if you saw the last two Palladium extravaganzas.
There is an abundance to enjoy here though: the whole thing feels like a love letter to the Palladium itself; in its episodic, variety act structure – the plot is less coherent than in previous years – topped off by a joyous litany of famous names who've played this hallowed house, set to a Gilbert and Sullivan variation, and delivered by Gary Wilmot's wonderful Dame.
Dawn French's wicked Queen Dragonella is great value, having terrible problems pitching her evil laugh and generally being far too cute to be genuinely nasty. Paul Zerdin and his adorably mean-spirited side-kick Sam (Sam is actually a ventriloquist's dummy, but please don't tell him you know that) are glorious. Vincent Simone and Flavia Cacace provide moments of class and exhilaration as Snow White's regal, ballroom dancing parents.
However, three years in, and the annual Qdos festive reign at the Palladium is starting to look a bit formulaic. What was once fresh, funny and delightful seems a bit cynical now: Julian Clary's Man In The Mirror feels distinctly subdued in comparison to his fabulous turns in the last two pantos, as though wearing an increasingly outlandish wardrobe is enough to compensate for a lack of real wit or enthusiasm. The running joke of Nigel Havers as a hopeless has-been was oddly touching before but is now eye-rollingly over-played. The conceit of kiddy audience participation loses all of its fun and spontaneity when the kids in question are clearly so carefully coached.
It's a good night out. At the eye-wateringly expensive prices they're charging, it really should be a great one.