Review: Turandot (Royal Opera House)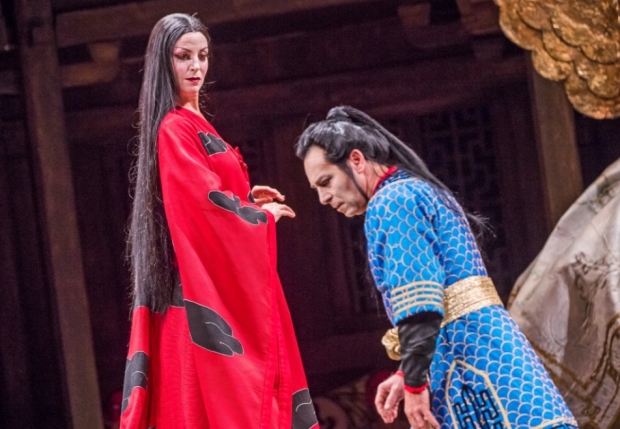 It's a house favourite, a riot of colour and a feast of vulgarity, so what better way to end the Royal Opera season than with a double-cast run of Turandot? Puccini's final opera, unfinished at his death but here performed in the customary Franco Alfano completion, has beatings, beheadings and 'Nessun Dorma'. Enjoy.
And I did – enormously – in Andrew Sinclair's sharp revival of Andrei Serban's 1984 production, a staging that is father of the house, so to speak, now that John Copley's elderly La bohème has been pensioned off. Unlike that fusty favourite, though, Serban's theatricality has scarcely dated. The aesthetic clash of t'ai chi and Fu Manchu remains irresistible.
Much of the credit for its longevity rests with the fabulously extravagant cartoonish designs of Sally Jacobs, and with the choreography of Kate Flatt, she of Les Misérables fame, who returns at every revival to ginger up the movement. This is as splendid as ever, although the contrast between the precise work of Flatt's dancers and the slack-armed line-up of chorus and children in Act 1 suggests that she might not have had quite enough access to the non-hoofers.
The cast led by Lise Lindstrom in the title role is also the one that'll be seen at outdoor screenings this coming Friday (14 July) as part of BP Big Screens. It is a first-rate company, with Lindstrom herself magisterial as the tortured ice queen who needs to get in touch with her emotions. The American soprano's voice was forthright and steely as befits the part, her every note a 1000-volt shock to the senses.
'Power and brio'
Husband and wife team Roberto Alagna and Aleksandra Kurzak are the obsessive Calaf and the tragic slave girl Liù, and both were on fine form at their second performance. If Alagna's low notes were only just good enough, his famous high register was firm and heroic and he emoted like a true actor in 'Nessun dorma'. Kurzak was vocally heartrending as the opera's second soprano lead, and she inhabited her character so fully that Serban's one glaring directorial misjudgement was thrown into stark relief.
This is where he squirrels Liù and her blind master, Timur (bass Brindley Sherratt in his third major role of the summer after stunning turns in Der Rosenkavalier and Billy Budd), out of mind under a side canopy even though her silent reactions to unfolding events are critical.
Everything else is on the money, as entertaining as a Hammer horror and as musically satisfying as… well, as Puccini ought to be in a great opera house but often isn't. Dan Ettinger conducted with panache and an interesting way with tempo (typically he held the music back then cut forth in unexpected surges) and the Royal Opera Chorus responded with fabulous power and brio.
The strength in secondary roles was a bonus, with idiomatic contributions from Yuriy Yurchuk as the choric Mandarin, Robin Leggate as a god-like Emperor Altoum, and from Leon Košavić, Samuel Sakker and David Junghoon Kim as Ping, Pang and Pong, the sinister minister trinity.
Turandot continues in repertory at the Royal Opera House until 16 July. At certain performances it is sung by an alternate cast led by Christine Goerke, Aleksandrs Antonenko and Hibla Gerzmava.