Review: Tosca (Royal Opera House)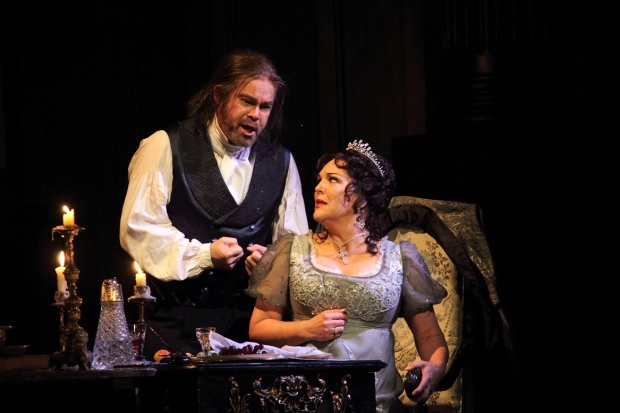 Jonathan Kent's 2006 Tosca returns to Covent Garden for a tenth time and it's bloody, bold but not quite as resolute as it ought to be. At its best this production favours the thriller element like few others and can be a chilling portrait of venality, but in Andrew Sinclair's latest revival the voltage stays low.
It is Canadian soprano Adrianne Pieczonka's first stab as Tosca in Britain and she's certainly got the shrieks for it. Her dramatic acting was thrillingly sung and came from deep within the character's psyche, but her one big aria, "Vissi d'arte", was short of introspective lyricism, while in Act One she missed the diva's playful spark in her lovers' tiff. But it's a promising interpretation that's likely to deepen during the run.
The two men in Tosca's life were oddly contrasted. Joseph Calleja's Cavaradossi, heroic from first to last and irresistibly bright of voice in a Three Tenors kind of way (occasionally to the point of going sharp), was countered by Gerald Finley's muted debut as the evil Baron Scarpia, a role his colleague Bryn Terfel tends to place somewhere between Inspector Javert and a Dementor. Yet I enjoyed Finley's interpretation very much: the drip-drip of venom in his veins brought him closer to Iago than the evil dead, and that's all to the good. Only "Va, Tosca", the badass aria he sings over the holy Te Deum, failed to deliver its chills in his reading, although Finley's mellifluous baritone rang true.
Notable within the variable supporting cast were Welsh tenor Aled Hall, who reprised his Spoletta from last year's English Touring Opera Tosca and brought finely sung definition to a role that often goes for nothing, and boy treble/alto Jai Sai Mehta who contributed a properly pastoral offstage Shepherd Boy without a trace of the choir stalls about him. He can be forgiven his single cracked note.
Calleja impressed most with his two-minute showstopper, "E lucevan le stelle". It's a huge moment that tenors too often sing as a generalised lament, but the Maltese tenor delivered it like a story from his heart and made it the high point of an otherwise mixed evening. In Act One he seemed to be hamstrung by conductor Dan Ettinger's ponderous tempo choices – as, for that matter, did the ROH Orchestra. (Between them the pit musicians blew the opera's opening iteration of Scarpia's motto by spreading the moment too thinly and for too long.)
Kent's production has its detractors but it works for me, not least in its look. The split-level stage for the church interior accommodates Puccini's musical layers to a sensitive degree, and Scarpia's study in which the only reading matter on the shelves is a door's-worth of fake books seems unnervingly prescient in this era of illiterate world leaders. Sets like these harmonise subtly with the music, but sadly we won't see their like again now that the director's masterly design colleague Paul Brown has left us. What a towering figure he was.
Tosca plays in repertory at the Royal Opera House until 3 March. Casting varies during the run and Plácido Domingo will conduct the last five performances.