Review: The Winter's Tale (London Coliseum)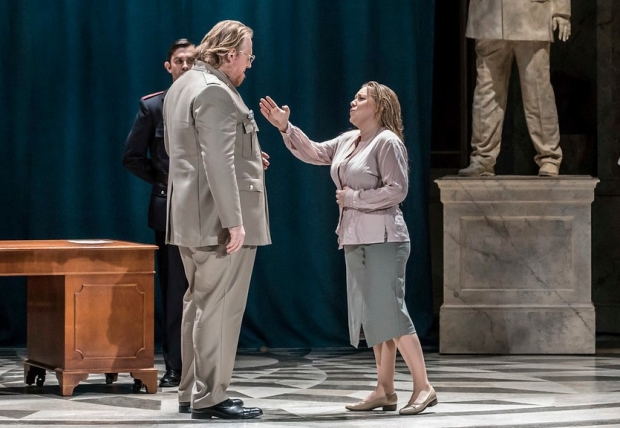 Ryan Wigglesworth's new opera suddenly got topical. Rory Kinnear, a tyro director but of course a seasoned Shakespearean actor, may have set The Winter's Tale in the Eastern bloc, but as the behaviour of King Leontes grows ever more irrational our thoughts turn in the opposite direction.
As the director told The Guardian: "We're doing a piece about an authoritarian, borderline-tyrannical leader who is appalling in his treatment of women, ignorant of nature, and quick to create borders." You do the math.
Wigglesworth has filleted the text but left its essentials intact. Leontes asks his pregnant wife Hermione to entertain his guest, Polixenes, but when she obediently turns on the charm he sees a red mist and accuses her of adultery. The baby is born and transported to exile, Hermione dies, Leontes goes from rage to remorse.
Cards on the table, I've always struggled with The Winter's Tale. The jealousy is too convenient, the spin of kindness and cruelty too pat, the supernal ending hard to swallow. Does the composer attempt to solve these difficulties? Not remotely. However the director does, to an extent, by reminding us how unpredictable dictators tend to be. Bass-baritone Iain Paterson, who is cornering the market in flawed leaders (he's a go-to Wotan in lands afar), comes trussed to the jowls in medals and epaulettes as his great bear of a Leontes roars to mask the shrimp within. Paterson it is who gives the opera its ballast and its backbone.
'Kinnear's production brims with confidence'
Wigglesworth's score is beautiful but cool. Lush orchestrations emerge deliciously from the ENO Orchestra, but the lack of a strong dramatic pulse is a problem. For example, when bold Antigonus (Neal Davies) begs the king to stay his hand and not burn Hermione's newborn baby alive, his "My Lord…" is a desultory croon. Only when the action shifts to Bohemia and the ENO Chorus has its place in the sun do energy levels rise a little.
Reductive though it is, It's hard to avoid playing spot-the-Britten-allusion in a score that makes several references, conscious or otherwise, to the UK's opera monster. When Leontes yearns for rest, keening basses from A Midsummer Night's Dream appear. When the Bohemian townsfolk chatter, we're in the Borough with Peter Grimes. In other respects, though, Wigglesworth's work has sound architecture, technical brilliance and an original voice that augurs well for things to come. The string intermezzo before Act Three is masterly; the reptilian music for the canker in Leontes' soul insidiously evil.
Kinnear's production brims with confidence and assured stagecraft. He keeps Shakespeare to the fore and makes sense of the relationships by dint of forensic characterisation, and thereby draws terrific performances from ENO's stellar cast even when the one-pace score gives him little to work with. From Timothy Robinson's Camillo to Anthony Gregory's loved-up Florizel, potential ciphers are given three-dimensional life.
Sophie Bevan as Hermione suffers with defiance and sings with refulgence; as Polixenes, Leigh Melrose holds the stage with magnificent force. Indeed, everyone in the hand-picked company, from Susan Bickley's brave Paulina to Samantha Price's vulnerable Perdita, shines and convinces.
Vicki Mortimer's set is an object lesson in how to narrow focus and create intimacy on the Coliseum stage, and Jon Clark's wizard lighting lends life to her ideas. The main drama takes place within an intimate central disc, although Kinnear's action regularly spills out beyond its confines. Seamless scenic revolves transport us between rooms and between countries; the only stutter is an ill-conceived boat scene.
Next time someone whinges that ENO's home is too big, remind them of this. But to do that you need to have seen it—which I urge you to do.
There are further performances of The Winter's Tale on 3, 8, 10 and 14 March.