Review: The Nose (Royal Opera House)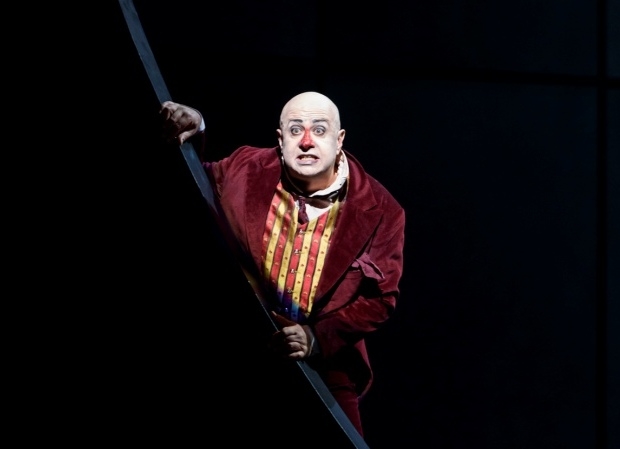 Here's a rarity: Shostakovich's first full-length opera, composed when he was 21 and adapted from a satirical short story by Nikolai Gogol, author of The Government Inspector and Diary of a Madman.
A brief outline of the action should determine whether this show is for you. Poor Kovalov wakes up one morning to find that his hooter has upped sticks during the night and gone walkabout. Our hapless hero tracks down his proboscis and confronts it in a cathedral, but such is the olfactory organ's new social status that it turns up its… nose… at its owner.
After that the plot gets a bit silly.
The Royal Opera audience laughed and clapped and roared its first-night approval, so is The Nose a comic masterpiece? No, but the production is. In Barrie Kosky, Covent Garden has engaged the perfect match for this opera: a freewheeling director who thrives on improbable material and has the knack of turning it into a silk purse. Here the Australian's imagination runs wild without ever seeming self-indulgent, not even when he throws in a gratuitous tap routine for 11 giant schnozzles.
There's a cogent argument that says such tricks betray Gogol and Shostakovich by turning their creation, a social commentary turned musical parody, into vulgar vaudeville. Well, maybe; but the relentless two-hour running time would be hard-going without the added levity. Even with Kosky at his best, this remains a seventy-minute one-acter bloated to two hours, and the law of diminishing returns applies.
Things that amused the callow Shostakovich a hundred years ago have only fitful entertainment value now. There are references to his composing countrymen, most recognisably Tchaikovsky and, in a ravishing male-voice chorale, Stravinsky, that were probably modish in their day but sound shallow in the light of his own subsequent masterpieces.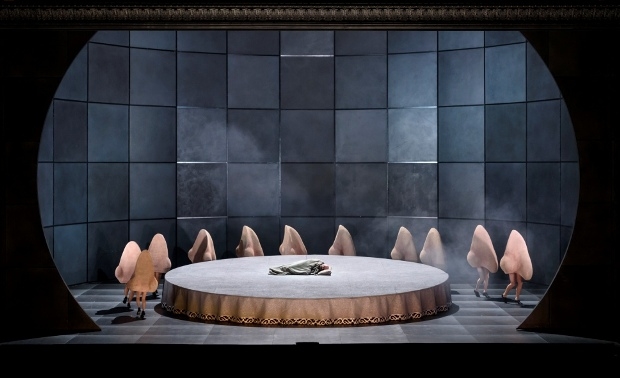 While orchestrations are a marvel, with acidic accompaniments to the hero's laments and a panoply of percussion-led colours, for all its absurdity (and notwithstanding the flexible and many-hued conducting of Ingo Metzmacher) there is little true humour in the score. Ironically, that very paucity gives David Pountney's singing translation the scope to cut through with its own tart inventions—such as "De-nose-ification", a delicious coinage, pregnant with subtext.
The action unfolds within a grey, dilating downstage aperture, flattened top and bottom like a cathode ray tube, in which a drop curtain conceals and reveals Klaus Grünberg's simple stage elements. These range from a giant grappling hook to a rambling cluster of tricycle-propelled tables.
The real visual interest, though, is in the vast company, all of whom give performances of caricatured energy. Everyone sports a massive false nose to set them apart from Martin Winkler's flat-faced Kovalov.
The Austrian bass-baritone gives a tour de force as the nasally challenged blusterer. He plays him as though Colonel Blimp had been parachuted into a Kafkaesque version of Alice in Wonderland, and with his full-bodied physicality and forthright vocal delivery he carries the evening, aided and abetted by a cartoonish servant, Ivan, played by the admirable Wolfgang Ablinger-Sperrhacke.
A legion of home-grown stalwarts fill the minor roles. Seasoned pros John Tomlinson and Susan Bickley contribute cameos, as do the likes of Ailish Tynan, Nicholas Sharratt and Paul Carey Jones of the younger generation—all artists more used to leading a show than popping in for the odd line. They add class, as do the Royal Opera Chorus, extra chorus, dancers—and indeed the pint-sized Ilan Galkoff who plays (or, rather, protrudes from) the title role.
The Nose runs (sorry) in repertory at the Royal Opera House until 9 November.