Review: Macbeth (Royal Opera House)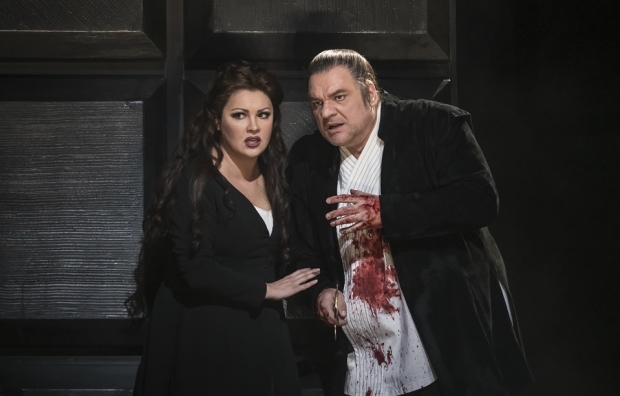 Dark stages are a thing nowadays in opera, pools of dementor gloom leavened by dim cuts of glow that pick out shards of whoever happens to be singing. The Royal Opera suffers as much as anyone from this benighted commonplace, its 2016 Il trovatore the latest in a line that stretches back 14 years to Phyllida Lloyd's black-hearted Macbeth. Last seen – or do I mean glimpsed – back in 2011, here it is again as an antidote to the spring sunshine.
Although it's set in a semi-Arthurian dark age and framed by designer Anthony Ward within a heavy black box of chocolatey squares, startling manifestations of gold (body armour, precious materials and statue-like horses) make totemic appearances to exemplify the Macbeths' greed and ambition. The phantom dagger is as a blade of light; juvenile spectres in the family bed show that the wicked couple's ambition is both neutered and ignited by their childlessness.
There is, though, a special kind of light in this revival of Macbeth, but it is aural rather than visual because it comes courtesy of Anna Netrebko. The Russian soprano is ablaze with the power and vocal control of a world-conquering diva. To hear this star in her pomp is to appreciate how much ordinariness passes for quality these days. In the first world-class turn of the UK season by any soprano, she's an electrical storm of magnificence.
'Martial discipline and artistic flair'
Lady M is generously endowed with solo arias, mostly derived from Shakespeare's soliloquies, where all she has to do is hold the stage alone. But to her credit (and that of revival director Daniel Dooner) Netrebko invested her with a conviction born of meticulous preparation as well as long experience in the role. While her sleepwalking scene was a tour de force, it was in Act One that she really startled the ear in a taut, fiery "Vieni! t'affretta".
For the rest, it was a tale of two husbands plus one. Željko Lučič sang the title role with immense authority, using his uningratiating baritone to good advantage as the charismatic tyrant. Netrebko's real life husband, meanwhile, now a standard BOGOF wherever she appears, was a wholly convincing Macduff. On this showing Yusif Eyvazov deserves to spread his own wings. The prince among the men, however, was Ildebrando D'Arcangelo, a Banquo whose premature demise left a cruel gap in the sound picture. The Italian bass-baritone was on irresistible form while his character lived.
Antonio Pappano conducted his forces with martial discipline and artistic flair. Verdi is home turf for the Royal Opera's music director and he drew chunky, big-boned playing from the ROH Orchestra and some ravishing choral contributions from the Royal Opera Chorus, a band that's at the top of its game under chorus director William Spaulding.
Among a host of minor roles, Francesca Chiejina stood out for the warm timbre of her Lady-in-Waiting; yet barely 18 hours earlier this exciting Jette Parker Young Artist had been singing Mozart quite brilliantly at Glyndebourne as a finalist in the inaugural Opera Cup. Chiejina was a shining Micaëla in the otherwise misconceived La Tragédie de Carmen at Wilton's last year. Watch her career as it grows.
Macbeth runs in repertory at the Royal Opera House until 10 April.