Review: Lulu (London Coliseum)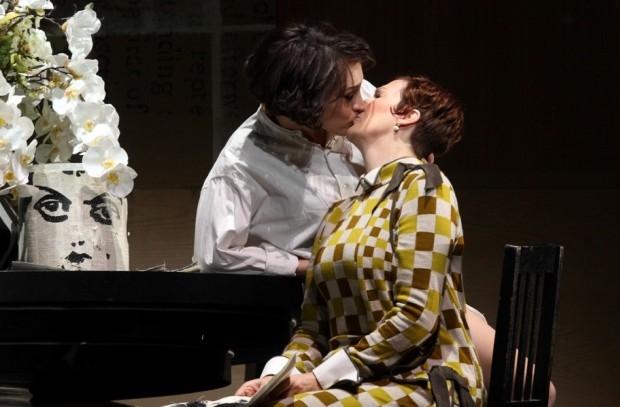 Lovers of sensory overload should scoot to the London Coliseum. William Kentridge's video-heavy Weimar dreamscape of a Lulu is like nothing you've ever seen, heard or imagined.
Alban Berg transformed Frank Wedekind's grim study of amorality in an immoral world, related in the plays Earth Spirit and Pandora's Box, into an opera of complex beauty. It's a score that echoes its source material in placing sensual immersion above narrative simplicity, and Kentridge's production continues that line.
Reshaped from the Academy ratio of its Dutch and New York outings to fill the wide-screen Coliseum stage, video designer Catherine Meyburgh splatters projections of erotic imagery all over Sabine Theunisen's paperfold set and threatens to overwhelm the tale of Lulu, a murderously carnal innocent on whom besotted admirers project their own lust. Yet the eye-frying visuals are all of a piece with the score, the story and the subject. It's a night of extremes, as it needs to be.
Mark Wigglesworth bids farewell to English National Opera, after a scintillating though despairingly brief tenure as its music director, with the most gorgeous account of this unflinching yet lushly variegated score. His musicians in the ENO Orchestra respond like lions as he digs deep into Berg's musical language and finds beauty in its squalor, love in its dirt and transcendence in its sordid humanity. Wigglesworth responds to the indescribably rich music with insight and flawless empathy.
'Fearless, probing and compelling'
Brenda Rae makes a sensational house debut in the title role, one of the most challenging in the repertoire. The American soprano husbands her resources early on, mindful of the extremes that lie ahead; yet she never undersings and her characterisation is dynamite. Fearless, probing and compelling, radiant of voice and beauty, she is the complete Lulu.
The supporting company is no less distinguished and includes stand-out contributions from some major artists: Sarah Connolly as the emotionally churned Countess Geschwitz, Willard White as the engmatic, creepily paternal Schigolch, Nicky Spence as Lulu's smitten stepson Alwa and David Soar as the prologue's Animal Tamer and, later, the Athlete. (It's unclear why both Soar and the great Met star James Morris, who doubles as Dr Schön and Jack the Ripper, retain the same costume and persona for both their respective paired roles, but that's a minor concern.)
Elsewhere, Clare Presland and Jeffrey Lloyd-Roberts carry off multiple roles with aplomb, while Kentridge ices the cake of his Weimar aesthetic with four hours of mime by Joanna Dudley (in a Louise Brooks wig) as she undertakes the slow seduction of a grand piano and glues the tale to its musical retelling.
It is possible to take issue with aspects of Kentridge's visualisation and sightlines, and Friedrich Cerha's completion of Berg's unfinished third-act orchestration is perhaps excessively traditional in its beauty—closer to Strauss than Schoenberg—yet this Lulu, so well translated by Richard Stokes that you won't miss the German, is a thrilling event in a year that sorely needs one.
There are further performances of Lulu on 12, 14, 17 and 19 November.