Review: Carmen (Royal Opera House)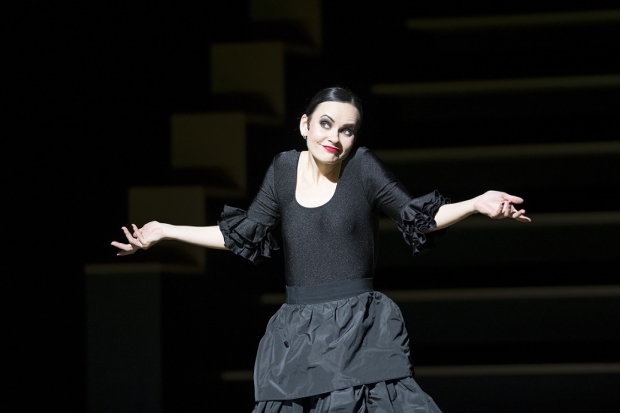 Jakub Hrůša conducted the best Carmen in years at Glyndebourne in 2015, so it was a no-brainer for the Royal Opera to snap up the young Czech and invite him to do the honours in its brand-new staging. Amid a prevailing madness he almost rescues bits of it… but not quite.
Hrůša is the pearl before a herd of Gadarene swine, all waltzing their way over the director's cliff edge. The conductor has to marshal a circus of follies and make musical sense of them, but he's on a hiding to nothing. Gorgeous ensemble playing by the ROH Orchestra at lush, leisurely tempos, with fabulous attention to detail, only served to highlight what might have been; and rather than cheer, I wept for the wasted opportunity. It gives me no pleasure to say this, but Barrie Kosky only has eyes for his 215-minute vanity project.
Neither does it give me any pleasure to lament the Royal Opera's questionable casting for its new flagship production. Anna Goryachova has an attractive, full-bodied mezzo but her Carmen was indecipherable and her intonation wayward. However, it is not her fault that the production's antics allow for zero sexual chemistry with Francesco Meli, who was anyway an odd choice for Don José. The tenor's voice lacked romance, dulled as it was by a laboured timbre that hardened under pressure, while his habit of scooping up to notes from below grew wearisome as the hours ticked by.
Eight talented dancers exhaust themselves
And it certainly gives me no pleasure to report that Kosky has pieced together a cut-and-paste Carmen from musical bacon rinds, alternative versions and pointless voice-over chunks from Prosper Mérimée's novella. The same disembodied voice, female, French and earnest, reads out the opera's stage directions so that Kosky doesn't have to bother showing them on his unchanging set of descending stairs. Musical passages are reconfigured, the 'Habañera' comes in two versions, and a meandering closing scene goes on for ever, devoid of any tragedy beyond the resurrection of Carmen for a screw-you farewell to the audience (see photo above).
There's little to note in designer Katrin Lea Tag's contemporary costumes beyond the occasional matador outfit, except that the children (marvellous work by the Royal Opera House Youth Company) wear smart white trews and Carmen's extravagant black train for the finale is a rush-hour number with extra carriages. Instead, the evening's visual interest relies on teeth'n'smiles as eight talented dancers exhaust themselves to Otto Pichler's derivative choreography. Expect to spend the evening thinking: 'That's nicked from Bausch/Fosse/whoever'.
Considering the hard work he's done sticking post-its over the surface of Bizet's masterpiece, Barrie Kosky appears unconcerned to make us care about what lies within. It's all about the showbiz. As entertainment this overegged pudding wouldn't pass muster on ITV2; but the Australian is a revered name in Germany and, since his unforgettable Saul for Glyndebourne, increasingly so in this country too. He's brilliant with off-the-wall material like The Nose, seen at the ROH last year, but when things get serious his instinct turns to Barnum and the lure of the cheap.
It's sad that a sturdily sung Escamillo from Kostas Smoriginas and a luminous Michaëla from Kristina Mkhitaryan were all but lost within the farrago. It gives me no pleasure to say… but enough of that. Nothing about this Carmen gave me any pleasure at all.
Carmen runs in repertory at the Royal Opera House until 16 March.