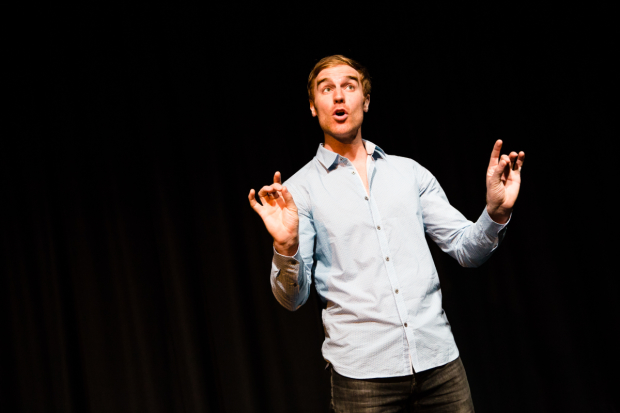 Raz starts with a bang – the audience plunged into darkness, an uncomfortable mechanical sound filling with air – and doesn't let us out of its grip for the entire 65 minutes. Such sustained dramatic tension is a rare accomplishment in a one-person play, with much of the credit going to actor James Cartwright for a performance that is as high-octane as the night out with the lads he narrates for us.
Cartwright plays Shane, a young man intent on putting the stresses of the week behind him. While not exactly sympathetic, he's hugely likeable, charming the audience with a constant stream of engaging banter from the tanning salon where he begins his preening to club after pub after pub after pub.
Shane is the creation of Jim Cartwright, a respected playwright who also happens to be James's father. His writing is just the right combination of lyrical and naturalistic, tipping for a moment into poetry and then swinging back into the more usual cadences of a lad about town. Unsurprisingly perhaps, given the family connection, but no less impressive for that, James's delivery is flawless, whether spraying us with a burst of rhythm like bullets from a gun, dropping in an unashamed rhyming couplet or doing a terrible Elvis impersonation at a fly-by karaoke session.
Director Anthony Banks has opted for a visually stark approach to the piece, letting Jim's writing and James's performance shine out from the midst of an atmospheric sound design by Ben and Max Ringham and lighting design by of Joshua Carr. Banks's skill is in oh-so-subtly drawing out Shane's frailties without ever having him letting up on his big-man projection of himself. Yes, it's Shane who's in charge of the drugs and corralling various posses of ladies around the place, but he still lives with his parents. Then there's the ever-present spectre of his ex – she doesn't matter to him at all, he claims. But we don't believe that for a second.
There are a couple of moments where this otherwise razor-sharp production loses its edge. The drugged-up club scene is both accurate and entertaining, but it doesn't offer anything new. The politics feels crowbarred in too, in a scene in which Shane and his buddies wrangle the mic from a stand-up comic performing in one of the pubs on their crawl. Unable to put these words of anger and frustration about this generation's poor prospects in Shane's mouth as part of the normal course of proceedings, Cartwright Senior gives him a soapbox.
This small misstep aside, Raz offers all of the thrills and spills of a night out in modern Britain while sending us home untarnished by hangover or regret. I think I'll do all my partying vicariously from now on.
Raz runs at Trafalgar Studios until 16 April.