Review: Pericles, Prince of Tyr (Barbican Centre)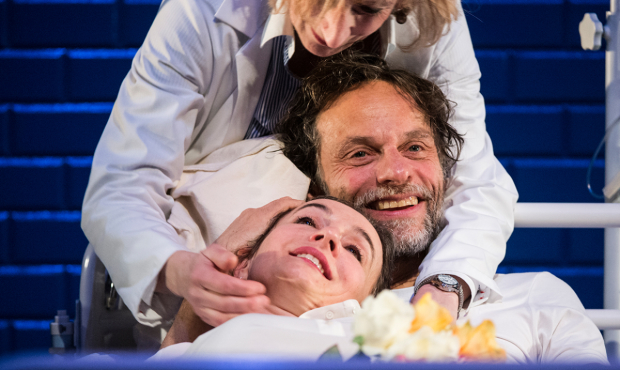 Cheek By Jowl has long been drawn to problem plays. Far from solving them or smoothing them out, director Declan Donnellan likes the lumps and bumps. At 64, his work is as adventurous and inventive as ever and he has, of late, found a way of grounding fantastical theatrical tales in a recognisable reality.
In Ubu Roi, his last collaboration with French actors in their own tongue, Donnellan let a monstrous, murderous tyrant emerge from a domestic setting: a child's eye view of the family home transformed a father into Alfred Jarry's unruly king. This time, he puts Pericles in a hospital ward – all dreamy aquamarine in Nick Ormerod's design. In the metal-framed bed, an old man lies comatose, his family waiting by his side as the radio mutters away. The storm-tossed tale itself plays out like a flickering fever dream or a flashback, as his subconscious synapses fire and misfire away.
They turn nurses into armed soldiers, doctors into foreign kings and Pericles' nautical exile, shunting him from shore to shore, becomes a metaphor for this man's unmoored state: illness as an Odyssey all of its own. His wife and daughter race through his mind – recognisably themselves, but also Pericles' queen Thasia and their child Marina. Reality intermingles with far-flung fantasy, so that as Pericles is separated from his wife and daughter at sea, so is this silent sleeping figure.
Aside from allowing Donnellan a certain impressionism – his whittled-down text comes in at one hour forty without an interval as it skips across stormy seas – the effect is to put the whole play through a prism. It's striking how often illness features in the text, not just death, and Donnellan's staging highlights a through-line of recovery and care as Pericles is taken into foreign lands. That healing is spiritual as often as it is physical, and as Marina washes up in a brothel, her devout example leads its sinners back to themselves.
The vocabulary adds a playful theatricality, in which gurneys serve as coffins and bedpans as ballast, but it's hard to shake the sense that the framing device tells us more about Pericles than Shakespeare's play says about life. Donnellan conveys near-death experiences as adventures of their own, while reminding us that the living aren't alone in having to deal with departure, but for all it demonstrates that life carries on through a coma, it rarely shifts one's sense of the world. It's best thought is that our lives are always hanging in the balance, as precarious when bedridden as on the high seas. We wash up where we wash up – for better or for worse – and we're all of us at the whim of the world and its weather.
Pericles, Prince de Tyr runs at the Barbican Centre until 21 April, then at Oxford Playhouse 24th to 28 April.