Review: Paradise (Hampstead Theatre, Downstairs)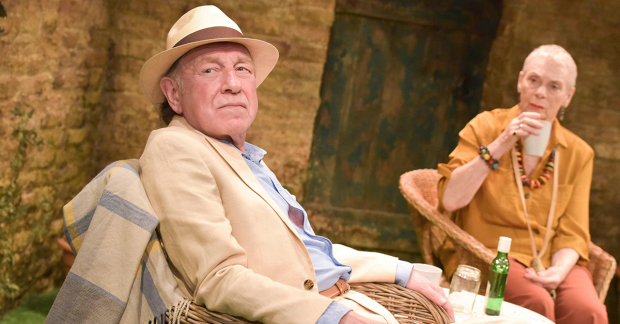 Despite his plays having been produced at the Bush, the Royal Court, the National and the Donmar, Dusty Hughes' name is probably unfamiliar to many younger theatregoers. For the best part of two decades he has concentrated on screenwriting but on the basis of this beautifully judged tragicomedy, it really has been theatre's loss.
Set in the gardens of an upmarket residential home for the elderly (Anna Reid's lovely set springs a delightful surprise in the very last moments), it opens with Geoffrey Freshwater's flamboyantly stroppy gay widower Meakin ("Look at me now! Like an old castle sacked by barbarians!") sparring entertainingly with Sara Kestelman's eccentric former teacher Goose as they get stuck into the gin. If at the outset it looks as though we are in for a classy, camped-up stage version of One Foot In The Grave, Hughes – and Alice Hamilton's sure-footed direction – quickly go deeper, darker and more gripping.
The residential home has recently changed management with the result that financial and behavioural inconsistencies tolerated under the old regime are challenged, seriously threatening Goose and Meakin's curmudgeonly idyll. A script that initially looks a little middle class and self-regarding becomes a delicately wrought, sometimes painful look not just at the sheer bloody awfulness of getting older but also at the uneasy, semi-acknowledged truths that lurk within long-standing friendships.
Kestelman and Freshwater are magnificent: you'll never forget the way the expression on Kestelman's face changes as she dispenses another withering put-down then remembers the abyss she is staring into, or the gorgeously written speech – aria almost – that she delivers towards the end, asserting that all the women that this courageous spirit once was are still
alive somewhere within this ageing, stroke-ravaged body. Opposite her, Freshwater strikes a perfect balance between irascible melancholy and outrageousness, spouting Polari and obscenities with gleeful venom, but never descending into caricature or sentimentality. They are a brilliant team.
There's terrific work too from Rebekah Hinds as a gossipy, free-spirited care worker. If I didn't buy the officious new manager's confessional meltdown to the endlessly sarcastic Meakin – one of the few clunky moments in the script – Claire Lams performs it superbly, and is such a fine actress that she finds colours in a figure that seems crafted with rather less conviction and care than the others.
With its combination of robust characters, dialogue that veers between scabrously truthful to laugh-out-loud funny and almost always rings true, a glorious cast, and a set of issues that very much speak to the UK today, this is a winner. The only real mystery is, why isn't this on the Hampstead main stage rather than in the tiny Downstairs space?