Panel announced for this year's Kevin Spacey Foundation Artists of Choice Awards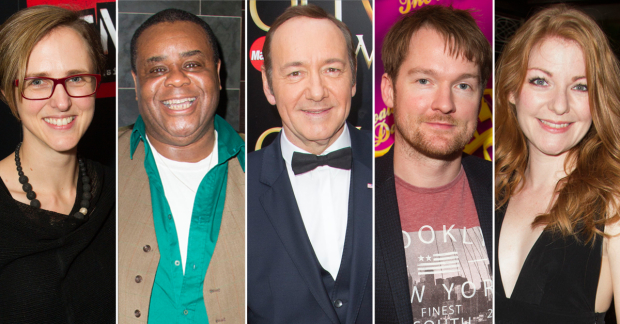 The panel members for this year's Kevin Spacey Foundation Artists of Choice Awards, which recognise emerging artists, have been announced.
The initiative awards £10,000 (or $10,000) to four UK-based and four US-based artists or companies across four genres: musical theatre, dance, theatre and film.
Actors Laura Pitt-Pulford, Killian Donnelly and Clive Rowe feature on the musical theatre panel, along with Theatr Clwyd artistic director Tamara Harvey and composer lyricist Maury Yeston.
The dance panel will include choreographer Ivan Blackstock, artistic director of the English National Ballet Tamara Rojo and resident choreographer of The Royal Ballet Wayne McGregor.
Playwright Samuel Adamson, actors Michael Cumpsty, Kobna Holdbrook-Smith and Jenny Jules, director Jamie Lloyd and WhatsOnStage COO Sita McIntosh feature on the theatre panel.
Spacey leads the film panel alongside film critic Rhianna Dhillon, screenwriters David Klass and Ben Vanstone, and Spacey, director of Europe for the Academy of Motion Picture Arts and Science Carola Ash.
Previous Artists of Choice winners include Alexander Zeldin (Beyond Caring), Aine Flanagan (Margaret Thatcher Queen of Soho), and Southpaw Dance Co (Speakeasy).
Applications close on the 14 April, and shortlisted applicants will be interviewed by the panel in May. Click here for more information on how to apply.
Full list of panel members
Musical Theatre
Alistair David, Killian Donnelly, Zina Goldrich, Marcy Heisler, Tamara Harvey, Theo Jamison, Michael Kerker, Neil Marcus, George Maloian, Laura Pitt-Pulford, Clive Rowe and Maury Yeston.
Theatre
Samuel Adamson, Michael Cumpsty, Vance Garrett, Kobna Holdbrook-Smith, Jenny Jules, Jamie Lloyd, Sita McIntosh, Charlie Westenra and Anna Ziegler.
Dance
Ivan Blackstock, Robby Graham, Wayne McGregor, Tamara Rojo and Sharon Watson.
Film
Kevin Spacey, Carola Ash, Rhianna Dhillon, David Klass, Dan Leigh and Ben Vanstone.