Paines Plough announces new season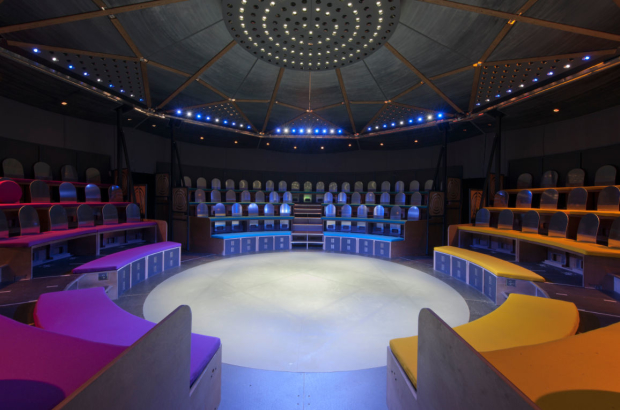 Paines Plough artistic directors James Grieve and George Perrin have announced their new season, which will see 11 productions tour to 74 locations.
This year sees the return of Roundabout – the company's award-wining portable in the round auditorium. The venue is currently at the Brighton Festival, ahead of a season at the Southbank Centre and a return to Summerhall where Roundabout was unveiled at last year's Edinburgh Fringe. It will embark on a national tour this Autumn.
Productions across the Roundabout season include Duncan Macmillan's Every Brilliant Thing and Lungs; Dennis Kelly's Our Teacher's a Troll, Alexandra Wood's Fringe First-winning The Initiate, alongside the world premiere of Wood's latest play The Human Ear.
Also at Summerhall, Paines Plough will programme a series of events entitled Earlier/Later, and play host to a variety of companies and performers including Daniel Kitson, Theatre Uncut and Eastern Angles.
Following performances at Edinburgh and on national tour, Every Brilliant Thing and Our Teacher's a Troll will also embark on separate tours to venues across the UK.
Paines Plough also returns to Latitude Festival this Summer with the world premiere of Sabrina Mahfouz's With a Little Bit of Luck.
James Grieve and George Perrin said: "We're proud to announce another jam-packed programme of new plays by the nation's best playwrights on tour to the four corners of the UK. It is Paines Plough's mission to be a truly national theatre of new plays, ensuring more people in more places get to see the best of British playwriting and experience exciting theatre on their doorsteps.
"At the heart of our programme is Roundabout, our beautiful, award-winning 'Theatre Building of the Year' which flat packs into a lorry and pops-up around the country with a repertory of outstanding plays. For years to come, Roundabout will tour to parts of the country new plays can't otherwise reach."