Review: Our Town (Regent's Park Open Air Theatre)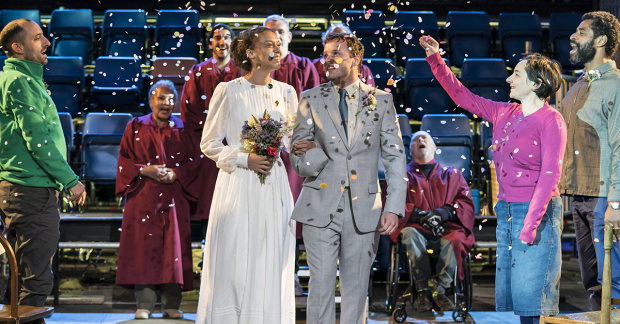 It isn't hard to see why Thornton Wilder's Pulitzer Prize-winning 1938 play is revived so frequently. Using the nature of human mortality to transform the mundane into the miraculous, it is a quaint and quiet metatheatrical meditation on everyday life that becomes all-encompassing.
Set in the fictional early 20th-century New England town of Grover's Corners, Wilder's piece follows 12 years of a well-to-do community, formed by a panoply of characters each united by their general ordinary-ness. The milkman's cow comes visiting, school ends at the same time every day and newborn twins are a cause for celebration. It's all overseen by a 'Stage Manager', who cuts across the scenes, introduces actors and locations and serves as a sage compère for the piece's three acts (divvied up into two halves – a much longer first half with two acts and a short second with the final act). The first pair of acts explore life and love – the glorious regularity with which the day starts and young sweethearts fall for one another. The last act tackles death – reframing all that comes before to make us realise just how fleeting life can be.
There's a lot of charm in Ellen McDougall's outdoor production, with some finely crafted performances from a cast of 18 – most remaining onstage throughout the show and sitting on the tiered bleachers that form Rosie Elnile's set. Laura Rogers brings enigmatic omniscience to the role of the Stage Manager, always in control but never in the way of the town's story. Francesca Henry, reunited with McDougall after appearing in Stratford East's The Wolves last year, has an earnest brio as tragic lover Emily Webb, discovering the agony of the afterlife in the final third of the show. There's also stellar work done by Pandora Colin, transforming from a matronly busy-body, fussing over the chickens, to a still and sedate onlooker.
But in the expanse of the Open Air Theatre and splayed across Elnile's wide set, the production emphasises the spectacle over the small-town setting, sapping the story of its endearing intimacy. We never really lose ourselves to the people of Grover's Corners, and as a result, never come to really feel the weight of their loss when death comes knocking.
Things certainly pick up in the shorter, more mystical second half as the metatheatrical aspects of the show fit more seamlessly with the story, but it's a long slog through the first half to get there, not helped by some uneven pacing during lengthy expositional monologues delivered by the Stage Manager's "guest speakers", revealing the town's history and general lack of significance. A loving revival, but one that doesn't seem to fit naturally in the great outdoors of the space.