WhatsOnStage Opera Poll 2017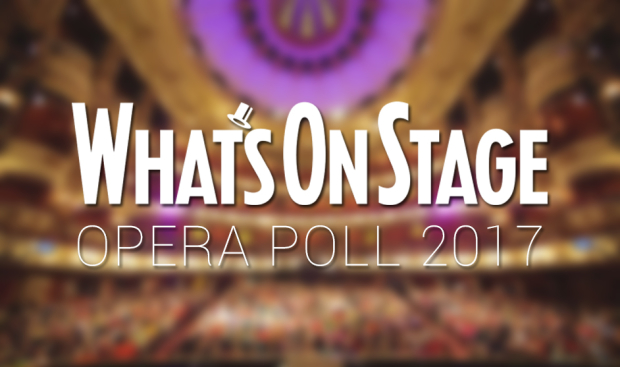 Welcome to the annual WhatsOnStage Opera Poll 2017.
Eligibility for the shortlist is confined to opera performances that were reviewed for WhatsOnStage between December 2015 and November 2016 inclusive.
Voting will close at 23:59 on 31 December 2016. The results will be announced on these pages on 4 January 2017.
You may enter once only, so be sure to cast your votes at a single visit. Additional voting sessions from the same source will not be registered.
To help nudge your memory, at the foot of this page you will find links to all the relevant WhatsOnStage reviews. Just click on the short excerpts.
Happy voting!
Snapapp Quiz
Best New Opera Production
Akhnaten – "it's the forces of beauty that triumph"
Andrea Chénier – "Arden's detailed direction is a revelation"
Cav & Pag – "unforgettable theatre"
Don Giovanni – "gets practically everything right"
Lulu – "a thrilling event in a year that sorely needs one"
Oedipe – "Oedipe, in short, is a triumph"
*
Best Opera Revival
The Cunning Little Vixen – "shot through with unforgettable vignettes"
The Importance of Being Earnest – "awash with treasurable moments"
Jenůfa – "catch it now or live to regret it"
The Magic Flute – "infectiously good-natured"
A Midsummer Night's Dream – "What we hear is what we see"
Der Rosenkavalier – "Elaine Tyler-Hall has done an impeccable job"
*
Outstanding Achievement in an Operatic Role
Anthony Roth Costanzo – "expressive force and lyricism"
Jennifer France – "made this grown man cry"
Kelly Cae Hogan – "makes you giddy with her technical brilliance"
Sondra Radvanovsky – "a full-on engagement with her character"
Rafael Rojas – "gives the show its triumphant figurehead"
Sonya Yoncheva – "her honey-sweet voice is rich in drama"
*
Breakthrough Artist in UK Opera
Daniel Behle – "What an exciting tenor he is!"
Björn Bürger – "exudes elegant bonhomie and fourth-wall-breaking razzle-dazzle"
Nick Pritchard – "stands out as Telemachus"
Brenda Rae – "a sensational house debut"
Luca Salsi – "the Verdi baritone we've been waiting for"
Taylor Stayton – "the answer to all your summertime needs"
*
Event of the Year/Outstanding Contribution to the UK Operatic Scene
The Devil Inside – "a new opera that delivers the goods"
Richard Farnes – "an undervalued musical hero"
Opera Holland Park – "don't go expecting an easy ride"
Opera North Ring cycle – "overwhelming, sprawling and sensational"
Welsh National Opera – "overflows with conviction and ferocity"
Mark Wigglesworth – "a scintillating though despairingly brief tenure"