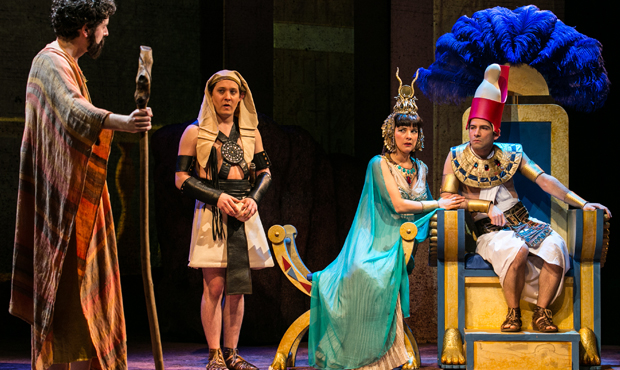 Writer and director Gary Sinyor has set himself an almighty task with his first stage play, NotMoses.
He aims to challenge religion, and to help us all have the confidence to laugh at ourselves, whether we're Jewish, Christian or Muslim. He's targeting anyone, in fact, who trusts in sacred texts that are considered divine by their practitioners. "It's fair enough to ask the Our Father what on earth he's been playing at," he says.
Sinyor is a filmmaker whose first feature was commissioned by Eric Idle, and Monty Python's best film, Life of Brian, is referenced heavily in his programme notes and throughout the play. NotMoses is in some respects an Old Testament homage to the Python classic. Instead of Jesus' life being shadowed by Brian, here we have NotMoses, a young man who could almost have been the real deal, leading his people out of slavery and out of Egypt. Along the way, he finds love and tags along with the real Moses long enough to become thoroughly entangled with the whole biblical story.
The parallels don't stop there. As well as the almost-Moses, there's even a pharaoh with a lisp, à la Michael Palin's Pontius Pilate.
There has clearly been heavy investment – creative and financial – in this production. It features stunning video designs throughout from Lola Post Production, with projections that deliver an amazing sense of scale. Particularly impressive are the moving backdrops where hordes of slaves are hacking away on the mighty pyramids. And the plague of frogs sent by God to punish the Egyptians rain down in magnificent profusion.
Carla Goodman's costumes are also a treat, with some terrific head-dresses and Egyptian court splendour.
Greg Barnett plays NotMoses with an engaging charm, and Thomas Nelstrop's Moses has a commanding presence. Joe Morrow effortlessly steals all the best laughs with his camp Egyptian guard, complete with whip and saucy leathers. Antonia Davies is entertaining as Aviva, and Danielle Bird flies the flag for women's independence with an impassioned performance as Miriam.
But the problem lies with the play itself, which looks like an adaptation of a film idea – indeed it was originally presented to the video designers as a film project. The actors give it their all, but the material is patchy, even clumsy, and many of the very short scenes peter out without moving the story on.
Sadly, Sinyor's concept is stretched much too thinly to sustain a show of this length, and despite everyone's best efforts, this falls far short of a divine comedy.
NotMoses runs at the Arts Theatre until 14 May.