Review: Mrs Orwell (Old Red Lion Theatre)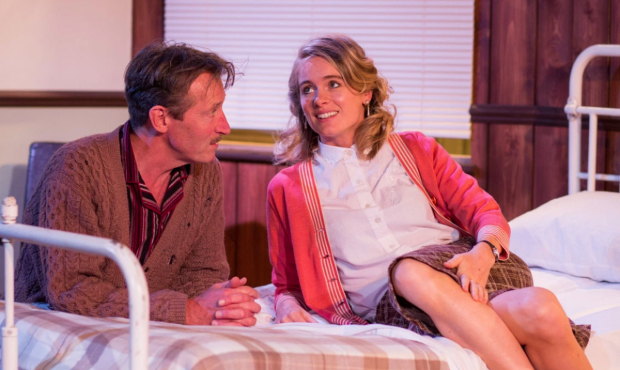 Based on fact, Tony Cox's absorbing, meticulously well researched new play depicts a severely tubercular 46 year-old George Orwell – shortly after the successful publication of 1984 – attempting to enter into a mutually beneficial marriage with editorial publishing assistant Sonia Brownell, some 15 years his junior.
Orwell believes that, if he can be cared for properly, he still has three more novels in him, a belief that is shared not least for monetary reasons by his publisher. Meanwhile Brownell carries a romantic torch for a married French philosopher – whom we never see – and is also on the receiving end of the attentions of artistic enfant terrible Lucien Freud – who we most definitely do get to see.
It's a heady, intriguing brew, and it says much for the vividness and conviction with which Cox has painted these characters that the references to other contemporary artistic figures of the day – including Picasso, Dali and Simone de Beauvoir – never sound like gratuitous name-dropping. They are instead a credible reflection of the extraordinary creative milieu that these people operated in. It undoubtedly helps that, in Peter Hamilton Dyer, we get an Orwell that entirely convinces as the fiercely intelligent literary genius, wracked with guilt at the premature death of his first wife (which he probably contributed to) but also irascible, charismatic and ultimately mortified by his reliance on other people due to terrible illness. He is superb.
If Jimmy Walters' nicely judged staging doesn't field any other performances quite as fine, Edmund Digby-Jones cuts a louchely belligerent, witty figure as Freud – although he could lay off the glowering a little in the second half – and Rosie Ede is a tart delight as an all-seeing, often disapproving nurse (the entire play takes place in Orwell's room at University College Hospital). Rebecca Brower's set is appropriately austere, although whenever characters have to converse outside the room in the corridor – visible to us through large windows – they are mic'd up, which can have a mildly comic effect.
Despite a slightly lame confession scene late in the second half, it's never fully clear in Cox's script what Sonia's motivations and true feelings are, and Cressida Bonas' vocally thin performance doesn't illuminate them either. She looks fabulous in the 1940s outfits and is believable as a woman who holds men in her thrall, but there is too little inner life discernible to make her into a three dimensional character. While it would seem that the character is written to be somewhat unknowable to us, it is a little frustrating to note that she also seems to ultimately elude the actress actually playing her.
The single worst scene in the play comes at the end where Bonas' Sonia weeps unconvincingly while Robert Stocks' frustrated publisher harangues her with a potted version of Orwell's literary accomplishments. At this point it feels as though the playwright has made the decision to beat us over the head with the extensive knowledge he has gleaned about his subject and ignored, albeit temporarily, characterisation and dramatic truth. This is unfortunate as it is a pitfall that Cox has managed to avoid elsewhere in an uneven but rewarding evening.
Mrs Orwell runs at the Old Red Lion Theatre until 26 August.