Michelle Terry: 'I won't be directing while at Shakespeare's Globe'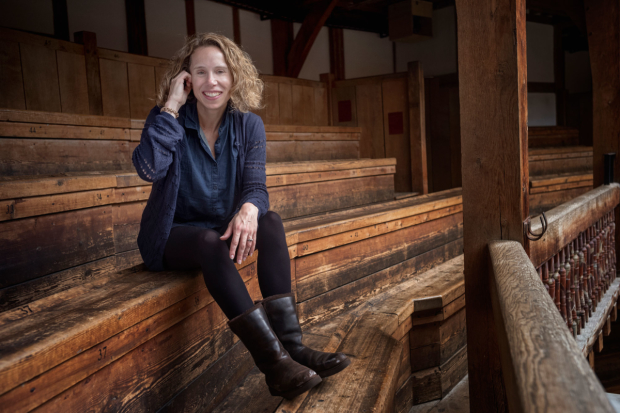 The incoming artistic director of Shakespeare's Globe Michelle Terry has revealed she won't be directing any of the plays programmed under her leadership.
Terry, who is renowned as a Shakespearean actress, said that she would hope to instead perform in one show in the venue per season.
When asked why she had decided not to direct any shows during her time there she said: "I think it's a skill I don't have. My passion is acting and it's really important to me that I am part of the ensemble."
She explained that she wouldn't be appearing in 'lots' of productions because of the nature of the space. "It's such a muscular space. It's really hard to sustain a certain amount of shows. So I would love to be in at least one a season, summer, winter, and we'll experiment for the first year, and see what happens."
Terry revealed that it had been written into her job contract that no amplified sound or 'imposed lighting rigs' will be used in theatre productions.
She commented: "I hadn't worked here under Emma [Rice]'s tenure, so what I know is the space: a raw naked space. And for me it's less about what was added on than what was missed when you have that. So what you want to do is reach out and touch the hand of those people."
Terry also revealed plans for a new play about Emilia Bassano, dubbed the "dark lady of the sonnets". The piece will be written by an as yet unannounced female playwright and will focus on the woman who is thought by some to have authored Shakespeare's plays.
"She is possibly the muse for Rosaline in Love's Labour's Lost, but no one really knows," Terry said. "She may have met Shakespeare, and she had an illegitimate child with one of Elizabeth I's advisers."
New writing will be a big part of Terry's tenure, with Terry mentioning a writing laboratory and rigorous workshop opportunities for new plays.
Terry originally wrote to chief executive Neil Constable after giving birth earlier this year to say that she would like to be involved in the venue's ongoing 'artist conversation'. Constable replied asking whether she would like to transform her letter into a formal application for the role of artistic director.
The intention is to have 50/50 split on gender across all shows and Terry added "And that's not just small parts played by women. It will be gender blind, race blind, disability blind… I know it works."
When asked if, in the wake of Emma Rice's tenure, she feels apprehensive about the board's reaction to her work, she said: "Every artistic adventure involves risk. I take great courage from the fact that they are taking an enormous risk in putting an actor in this position, I think that smacks of bravery, that gives me great hope. "
Terry becomes artistic director designate of Shakespeare's Globe on 2 October 2017 and artistic director from 22 April 2018.
Rice was appointed artistic director of the theatre in 2016. She announced she was stepping down following controversy over the use of electronic sound and lighting in the theatre.