"Medea" with Sophie Okonedo and Ben Daniels in the West End – review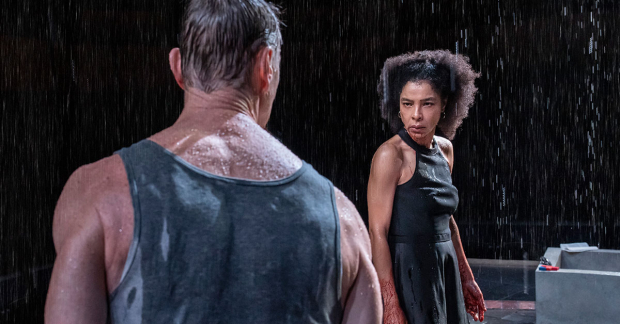 When it comes to revenge, there is no greater horror than that of killing one's own children in order to punish your cheating lover – it is sadly not unheard of though, even in modern times.
Today we may still balk at the action, yet we are better equipped to understand the psychological crisis that may have led to it. Sophie Okonedo's mesmerising Medea perfectly captures this thinly veiled line between devastating breakdown and monstrous evil in a brilliantly nuanced performance as the classic woman scorned.
Euripides' two-and-a-half-century-old tale of vengeance and madness is brought to life in Robinson Jeffers' intense 90-minute adaptation (no interval) at the West End's shiny new venue @sohoplace. In-the-round and gloriously intimate, it is the perfect space for an audience that feels gripped in the clutches of Okonedo as the mood darkens. The Corinthian women are sat amongst us, and as they begin to speak – passing their judgements and observing in fear and horror – we are drawn in further, almost voyeuristically, as witnesses to the unfolding events.
Dominic Cooke directs with a subtle hand and never releases the tension. A rhythmic underscore of beating drums relentlessly plays beneath the spoken word, never allowing us to step off the high wire of unease. The simplicity of Vicki Mortimer's design allows the text to hang in the air – a simple terracotta tiled space evokes the Mediterranean with little fuss, stairs lead under the stage to the hidden home of Medea and her children.
Cooke uses the unseen to his advantage. When the children are taken beneath the stage it is in sound alone that we witness the crushing and shocking final moments. Lost in our own imaginations it is chillingly realised and frighteningly effective.
Okonedo plays the tormented Medea with such richness that amongst the horror there is a sympathetic grief to her. Powerful, she has given all for her lover and already done unimaginable things in the name of love – she is consumed by her "hell of vile thoughts". This is not a woman that is full of warmth but is certainly one of passion and determination. Okonedo manages to display terrific conflict within her maddened actions, at once calm and calculating but consumed with hate – "hate is a bottomless cup" as she puts it. It's a visceral and blood curdling performance.
Ben Daniels plays all of the male characters, all conniving to control and harness Medea, and all set for a grisly end. Daniels paces in slow motion around the stage, morphing from one to the other – a circling vulture trying to capture its prey. A rare moment of lightness comes with a camp and gossipy Aegeus, while his devastating cries as Jason at the end is heart-breaking.
Marion Bailey's Nurse is suitably vexed with angst as she helplessly witnesses her mistress unravelling. Jo McInnes, Amy Trigg and Penny Layden all smartly give weight to their respective Corinthian woman. Special mention also to Oscar Coleman and Eiden-River Coleman as the two doomed children.
All in muted modern dress, this is a bleak and harsh production. It's inevitability makes for a breath-holding display of unflinching gut wrench, while Okonedo is worth the ticket price alone. The newest gizmo in the West End theatre toybox appears to be showing us that it really means business – I can't wait for what is yet to come!