Matt Trueman: 'Lighting designers are the unseen heroes of the theatre'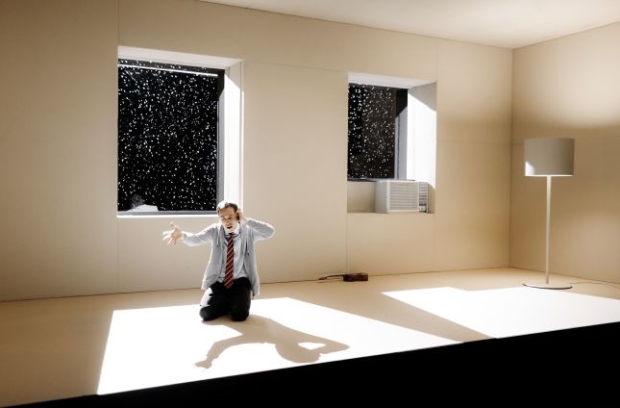 Forget BAFTA masks and teeny busts of Laurence Olivier. You know what they dish out at the Knights of Illumination awards? Swords. Full-sized, silver-forged medieval battle swords. Try getting one of them home on the tube afterwards, let alone finding space on your mantelpiece. (One winner, I'm told, turned his into a coffee table, Sword in the Stone stylee.)
Last night, the Knights of Illumination armed a ninth set of lighting designers for their work on stage, screen and in stadia. In the theatre categories, Mark Henderson won for the spidery silhouettes of Sunset Boulevard at the ENO, framing the orchestra as an integral part of the overall aesthetic, while Jan Versweyveld's undulating and unsettling work on Songs From Far Away at the Young Vic proved the pick of the year's plays. It wasn't just the soupy beige wash he overlaid, a tonal expression of the protagonist's grief, but the way he conjured time with light; stop-motion shadows juddering across the stage as if the sun was speeding past overhead, entire days distilled down to a few seconds.
It's all too easy to overlook lighting design
Elsewhere, Will Duke won the video design category – projection, of course, working entirely through light – for his contribution to Complicite's The Encounter. Ironically, that show most obviously celebrated sound, but Duke's projections underpinned its every effect, not just suggesting the stage stand in for an Amazonian rainforest, but making the theatre itself seem fluid and so heightening the hallucination at the story's heart.
I've been privileged to sit on the judging panel for the first time, and it's been – what else – an illuminating process. Doing so has forced me, every night, to check in with the lighting: what it's up to and why.
I admired the angular, expressionist shadows Lucy Carter cast on the miners of Husbands and Sons; the shimmering surface and gloomy depths Guy Hoare sunk into The Deep Blue Sea; the stark, sweat-glinting glare that Mimi Jordan Sherin threw out of The Hairy Ape's furnaces. Much more beside: Jon Clark's dark, dark voids in Richard III at the Almeida and Jane Cox's sallow, strip-lit glows in The Flick; the glinting idylls of As You Like It and Unreachable; Lee Curran carving up space in Hofesh Schecter's shows. I saw productions, too, that were driven by their lighting designs: YOUARENOWHERE with its strobe-speed, channel-hopping shifts, and The Haunting of Hill House, in which the fluid, ghostly projections by 59 Productions allowed the stage to suggest the supernatural and, indeed, to scare audiences.
And yet, as a critic – indeed, as an audience member – it's all too easy to overlook lighting design.
Lighting designers are the unseen heroes of the theatre, their work animates theatre.
There's thinking behind the sword thing. Swords are symbols of light; the glint of sunlight on a clean metal blade. That image is the stuff of stories the world over – from the lightsabers of Star Wars to the shining swords of Celtic myths. Swords are associated with nobility, divinity and sovereignty; with purpose, skill and virtue. With men too perhaps – tricky for such a bloke-heavy industry – but by no means exclusively so: warrior women wield them too. Either way, they belong in the hands of heroes. Put it this way: you can't ignore anyone who's holding a three-foot broadsword.
Lighting designers are the unseen heroes of the theatre. Without them, the art-form would be greatly diminished. Not – as the easy quip goes – because we'd have dark stages and invisible actors. Rather because their work animates theatre. It gives it texture and depth, turns stages into spaces and makes scenery credible. Lighting punctuates performance.
It gets short shrift in reviews. You rarely see an LD plucked out for praise (or, indeed, blame). For my part, that's not entirely unintentional. Reviews shouldn't work like school reports, dishing out gold stars for the good work of individuals. They should try to capture and convey something of the whole; what a show feels like, overall, for audiences.
Partly, it's to do with the old mantra that good lighting is lighting you don't notice: as unobtrusive, yet integral, as a film's score. Lighting can set your subconscious alight. It transforms tone and instils rhythm – just think of the difference between a snap blackout and a ten second crossfade – and, at another level, it marshalls your attention around the stage, serving other elements. Lighting directs as much as it designs. It dances. It acts. It performs.
It is, however, bloody hard to write about. Light is intangible and immaterial. It takes place in time and leaves no trace – in a sense, the essence of theatre. Light refuses to be pinned down, resists definition and description. Anthony Neilson's Unreachable, all about a film director seeking a very particular, perhaps perfect, kind of light, showed him struggling to find the words to communicate what he was after. "It's the smell of the sound of the colour of the feeling of life," he said, clutching at sensory straws. Light is largely ineffable. Interviewing Paule Constable – one of our very best LDs – a couple of years ago, she explained how her process relies on images and references to explain her ideas: "Nobody knows how to talk about lighting design."
It's time we changed that, and the Knights of Illumination awards are a great start, not just by forcing its rotating panel of critics to focus on the focusing, but by putting lighting designers right in the spotlight. Maybe the sword is mightier than the pen after all.