Lucy Crowe discusses her glittering career
Who or what are the greatest musical influences in your life?
Callas was a huge influence. I was badly bullied at school and found comfort and solace in singing along to her Vissi D'arte, Casta Diva, un bel di vedremo etc. Singing these pieces provided escapism and somehow put everything into perspective. Hearing the way she poured her heart and soul into each note was immensely powerful and I wanted to do the same.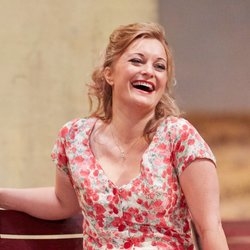 Madonna influenced me in the sense that she was an iconic, strong, independent and powerful woman. I loved singing along to her music as a teenager feeling capable of anything! So much of what we sing about revolves around love.
I met the love of my life in 2005 and since then I can sing about all the emotions love evokes in us with sincerity and understanding. My husband supports me hugely and understands what this job involves. Without his support and love I wouldn't be where I am now, and my parents were a huge influence as well, it goes without saying!
When did you realise that you wanted to pursue a career as a professional singer?
I realised this from a very young age. I used to sing along to everything and anything; Madonna, Fleetwood Mac, Abba, the soundtrack to Blood Brothers. But it was when putting on Mum's greatest hits CD of Maria Callas that I really found as though I had discovered something special, and wanted to live in, and be a part of, that world. I never really imagined I'd do anything else.
If you had to cite three career-defining moments, what would they be?
I stood in quite last minute to sing Poppea in David McVicar's production of Handel's Agrippina at ENO pretty soon after leaving college. Journalists always talk about this as a career defining moment for me, so I think this is when people started to take a bit more notice and more job offers came in.
My debut at ROH will always be a very happy memory. My dream when I was little was to sing there and that night my Mum, Dad and I had a group hug and I said 'I've done it. I'll never forget that moment. After that I needed another goal/dream to fulfil, so I made that target the Metropolitan Opera New York. So my debut there (as Vitellia) was a very important time in my career too.
Over the past few seasons you have sung Susanna (Figaro), the Vixen and Gilda (Rigoletto) to huge critical acclaim. All strong characters, but very different musical idioms – how does the preparation differ for each one?
Vocally I have to keep my voice very high for singing Gilda. I sing a top E flat in the duet in Act Two so that part of my voice in particular has to be in good shape. Also it's very lyrical, so keeping the focus of the sound and the legato even, is important. (But this is what I aim for when singing anything).
Susanna isn't so high and she sings more in the middle part of the voice, it is a longer role with a lot of recitative, so stamina is essential.
For the Vixen the language was quite tricky to master so this took some work. Also the physicality of the role differs to that of the other two so you need to be in particularly good shape.
You are about to sing Adina in Donizetti's sun-drenched comedy, L'elisir d'amore with The Royal Opera. What attracted you to the role?
I love that Adina is independent and subservient to no one. She is a strong, witty and interesting character. I wear my heart on my sleeve and am massively emotional. The complexity of Adina's character lies in the fact that she can't express herself well at all. She has these feelings but doesn't understand them or know what to do with them, so it is quite a challenge for me to play someone like this.
You're joined by Vittorio Grigolo and Bryn Tefel – what's it been like working with them?
Well Bryn is a legend whom I have always wanted to work with, and I am loving doing so! He is funny, charming, intuitive and a great colleague. It is fascinating for me to watch a master at work. We get to dance together on stage and this is one of my favourite scenes. His presence is imposing but he is a big cuddly teddy bear. Vittorio is very passionate and brings every ounce of this to the table. He is full of energy and this is really exciting to play off. You never quite know what might happen as he immerses in the role and this keeps me on my toes, making our scenes together unpredictable and exciting.
Handel seems to be a composer very dear to your heart. What makes singing his music so special?
I grew up listening and singing along to Handel's Messiah as this is my Mum's favourite piece, so he got under my skin from a very young age. When necessary for the character I'm playing I love being able to lighten off the sound, take away the vibrato, ornament freely and spontaneously, make an ugly sound if the text dictates it and sing mega fast coloratura. All this makes for a really enjoyable sing as you are able to play with the sound and effects so much. I also think there's no escaping the emotion from a great Handel aria. It slaps you round the face with its raw intensity and to be able to portray it and communicate that to people is amazing.
What other new roles are now on the horizon, and what interested you most about adding them to your repertoire?
I've been desperate to sing Pamina (in The Magic Flute) for years now and finally that is happening at ENO in 2016. Her aria "ach ich fuhls" is a lay-yourself-bare aria. It is so exposed and technically demanding. I can't wait for this challenge. I am singing Micaela in Carmen at Glyndebourne next year. It's a step in the direction of a slightly fuller lyric soprano and I am excited about opening out my voice and singing to its maximum breadth.
What advice would you give to any young singers wanting to enter this profession?
You have to really love it and want it, but nobody tells you how lonely it can be. You spend lots of time in hotel rooms. When you're working from home a day off is brilliant, when you're working abroad and don't have chums in the cast it can be miserable. So you have to like your own company. It is hugely rewarding so if you are lonely it can all feel better after a great show! And always remember to be unique.
If you were stranded on a desert island, and allowed one musical score which would you take with you and why?
Could I have recordings too please? [We'll have to think about that…] I'd like to have the disc of Maria Callas I listened to all those years ago, because that's where it all began and presumably on this desert island is where it's going to end? The recordings and scores of the roles that I dream of performing but haven't and maybe never will (other than on this desert island) would be La traviata, La bohème, Tosca, Madama Butterfly and Lucia di Lammermoor.