Kate Tempest, Neil Gaiman, Roy Williams, Clint Dyer, Tony Kushner and My Brilliant Friend in new NT season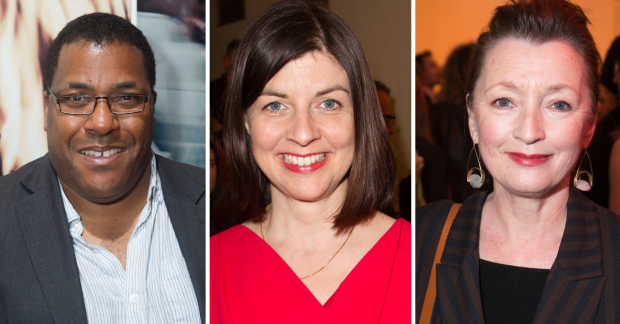 The National Theatre has announced its new season, with plays from the likes of Lucy Kirkwood, April De Angelis, Kate Tempest and Roy Williams.
Performance poet and musician Kate Tempest is to make her National Theatre debut with Paradise, a reimagining of Sophocles' Philoctetes. It runs in the Olivier Theatre in June 2020. Lesley Sharp plays Philoctetes in the piece, which is directed by Ian Rickson with set and costumes by Rae Smith.
Lucy Kirkwood's new play The Welkin is to be directed by James Macdonald in the Lyttelton in January 2020. The piece is set in rural Suffolk in 1759 as Sally Poppy is sentenced to hang for murder and the country waits for Halley's comet. Maxine Peake and Cecilia Noble star in the piece alongside Dawn Sievewright and Ria Zmitrowicz, with further cast to be announced. Set and costume is by Bunny Christie, design is by Lee Curran, sound by Carolyn Downing and fight direction from Rachel Bown-Williams and Ruth Cooper-Brown.
Neil Gaiman's book The Ocean at the End of the Lane is to be adapted by Joel Horwood and directed by Katy Rudd in the Dorfman over Christmas. The show features a cast including Josie Walker and Samuel Blenkin and the set designer is Fly Davis, with costume and puppet design by Samuel Wyer, movement direction by Steven Hoggett, composition by Jherek Bischoff, lighting design by Paule Constable, sound design by Ian Dickinson and puppetry by Finn Caldwell.
Moira Buffini's new play Manor will be directed by Fiona Buffini and will open in April 2020 in the Lyttelton. It follows Diana Stuckley and her daughter who are struggling to the roof on their run down manor house. Nancy Carroll will play Diana with further casting yet to be announced, while set and costume design is from Lez Brotherstone and lighting from Paule Constable.
Comedian Francesca Martinez makes her playwriting debut in the season with All of Us, in which she also stars. Ian Rickson directs the show in the Dorfman in March 2020, with Georgia Lowe on set and costume design. The piece focuses on Jess who has cerebral palsy and whose life is thrown into uncertainty when the government comes calling.
Actor Clint Dyer teams up with Roy Williams on Death of England, which will star Rafe Spall. The piece began life as a short film and will open at the Dorfman in early February 2020. It explores the world through the lens of a working class man looking for truth after his father dies. Set and costume is from Sadeysa Greenaway-Bailey and ULTZ, with lighting from Jackie Shemesh and sound from Pete Malkin.
American playwright Tony Kushner is returning to the National, this time with a new adaptation of Friedrich Dürrenmatt's The Visit, or the Old Lady Comes to Call. Jeremy Herrin directs the piece, which will run in the Olivier in February 2020 and will star Lesley Manville. The cast also includes Richard Durden, Sara Kestelman, Joseph Mydell and Nicholas Woodeson. The set is from Vicki Mortimer, costume from Moritz Junge, lighting from Paule Constable, composition from Paul Englishby and movement from Polly Bennett.
My Brilliant Friend is arriving at the National Theatre following its run at the Rose Theatre Kingston. April De Angelis' adaptation of Elena Ferrante's best-selling novel, which is directed by Melly Still, will be reworked for the Olivier Theatre. The entire original cast, including Niamh Cusack and Catherine McCormick return with the show. It will run in the Olivier Theatre from 12 November.
A new play by Richard Bean and Oliver Chris is to open in the Olivier Theatre, directed by Thea Sharrock in April 2020. The piece, which is an adaptation of The Rivals, runs in the 80th anniversary of the Battle of Britain and is a Restoration comedy relocated to World War II. Set and costume design is from Mark Thompson.
Alexander Zeldin returns to the National Theatre with Faith, Hope and Charity which will run in the Dorfman Theatre in September. The third in Zeldin's trilogy of plays, it follows Beyond Caring and Love and follows a run down community hall on the edge of town. The cast includes Nick Holder, Dayo Koleosho, Susan Lynch, Cecilia Noble, Bobby Stallwood, Hind Swareldahab and Alan Williams. It has set and costume from Natasha Jenkins, lighting from Marc Williams, movement from Marcin Rudy and sound from Josh Anio Grigg.
Inua Ellam's adaptation of Three Sisters will open in December in the Lyttelton. Ellams relocates Chekhov's original to 60s Nigeria and Nadia Fall will direct a cast including Ronke Adekoluejo, Jude Akuwudike, Ken Nwosu, Racheal Ofori, Sule Rimi and Natalie Simpson. Set and costume is from Katrina Lindsay, lighting from Peter Mumford, movement from Polly Bennett and musical direction and vocal arrangements from Michael Henry.
The Antipodes, by Annie Baker, will run in the Dorfman in October co-directed by Baker herself alongside Chloe Lamford. Conleth Hill will appear in the cast alongside Matt Bardock, Arthur Darvill, Imogen Doel, Hadley Fraser, Sinéad Matthews, Stuart McQuarrie and Bill Milner. Lamford also designs set and costume while Natasha Chivers designs lighting and Tom Gibbsons designs sound.
As part of a world tour, Ex Machina's The Seven Streams of the River Ota, directed by Robert Lepage, will arrive at the Lyttelton in March 2020. The seven hour saga returns to the National where it first played in 1996 to mark 75 years since the nuclear bombing of Hiroshima.
As previously announced, Nadia Fall's Welcome to Iran plays in the Dorfman in May 2020 following a run at Theatre Royal Stratford East, and Chris Bush will adapt Bertolt Brecht's The Caucasian Chalk Circle as part of Public Acts, to be performed in Cast at Doncaster in August, directed by James Blakey.