Iphigénie en Tauride (Hackney Empire and tour)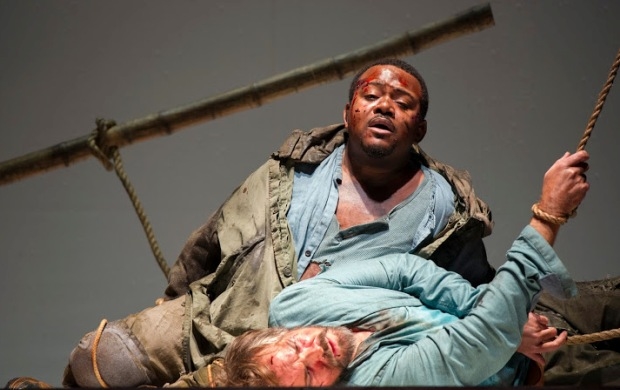 English Touring Opera
is a force for good in a wicked world. Twice a year this modest but ambitious outfit brings professional, small- to mid-scale opera productions to theatres from Carlisle to Truro, including places where it's the only live opera local audiences get to see. General director
James Conway
, an inspirational and driven figurehead, chooses repertoire that's uncompromisingly adventurous (who else in the UK would dare to tour Tippett's
King Priam
or Ullmann's
The Emperor of Atlantis
?), and with good conductors leading first-rate singers and players, musical standards are rock solid.
Too good to be true? Not a bit of it, provided you accept that sometimes the shows will lack flair. While The Barber of Seville, The Lighthouse and Liam Steel's riotous Gianni Schicchi are just three of ETO's more recent successes, sometimes the company's productions are low on creative energy and dramatic interest. This new staging of Iphigénie en Tauride veers that way too, but in the long run it redeems itself.
It's the Greek tale of a high priestess (and reluctant executioner) who's faced with a grown-up version of Sophie's Choice. She opts to kill the tenor, Pylade, unaware that the baritone whom she chooses to save is also her brother. He, Oreste, complicates this simple narrative by harbouring a death wish that was brought on when he slew his and Iphigénie's father Agamemnon, so he demands to take his friend's place.
Conway himself directs the first UK production in recent times of Gluck's late masterpiece (what a scandalous example of lazy neglect by the majors that is!) and his 27-strong cast is led by a distinguished central trio of Grant Doyle and John-Colyn Gyeantey as Oreste and Pylade, with the splendid Catherine Carby as the title character.
'Wracked vulnerability'
Martin André conducts an abundant ETO Orchestra in an elegant yet taut account that favours the singers and allows well-defined characterisations to emerge. They're hampered, though, by an aesthetic that sees the women clad identically in drudge attire (I know they're priestesses, but still…) and a bland dynamic that leaves the blood-crazed army of Scythian men stranded on a side podium when with a bolder touch they could have electrified the whole stage. Anna Fleischle's austere designs are imposing but underused.
The upside to this visual conservatism is a focus on relationships, and this is far more successful. By showing us that Oreste and Pylade are more than just good friends, Conway lends a telling intensity to the two men's fight to die; and Iphigénie's disgust at her fellow priestesses' blood lust helps the audience to identify with her in her thankless ritual task. Carby, one of our finest mezzo-sopranos, is locked into her upper vocal register for much of the evening, but she turns the taxing tessitura to her advantage in a performance that reeks of wracked vulnerability.
Doyle and Gyeantey are well matched and credible as the devoted partners and they share some powerful moments, notably in the emotionally charged second act which houses Gluck's most lyrical scoring. Craig Smith is gruff but not especially commanding as Thoas, king of the Scythians, while the goddess Diana is played by a child – presumably a different one at each of the tour's stop-offs. That will be a headache for the company's travelling children's coach since the role is plainly a big ask for an untrained singer of any age, let alone a young girl.
Iphigénie en Tauride tours to Truro, Poole, Norwich, Sheffield, Snape, Cheltenham, Buxton, Cambridge, Crawley, Canterbury, Wolverhampton, Blackpool, Durham, Exeter and Leicester until 1 June 2016. Click here for further information.