Idomeneo (Royal Opera House)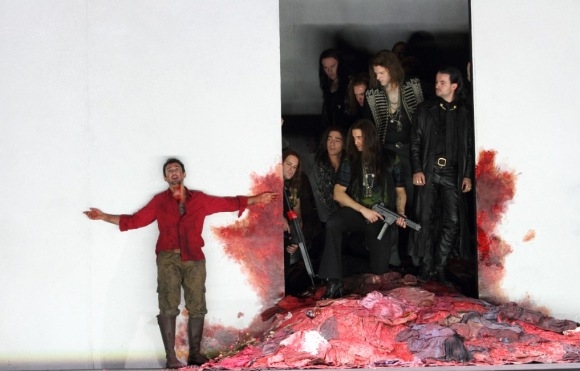 If Mozart had died at the age of 20, he would probably still have been remembered as a fiercely precocious talent but, by the time he wrote
Idomeneo
in 1781, it was clear he was a towering musical genius. The best was yet to come but his
opera seria
on the legend of the Cretan King Idomeneus who, like the Biblical Jephtha, is faced with the dilemma of sacrificing his own child or offending the gods, is undoubtedly his first true operatic masterpiece and one that plays out thrillingly in the theatre.
Its absence from the Royal Opera House for 25 years is surprising, then, but its return marks the house debut of Austrian director Martin Kušej and it's a shattering theatrical experience. Kušej comes with a Regietheater reputation honed in Germany, which will spell trouble for some and, indeed, the booers were out in force at the production's first night.
Anyone upset by the non-literal may struggle with some of Kušej's imagery and stagecraft (don't expect sea monsters although a bloody-toothed shark makes an appearance) but few will deny the musical quality of the evening. Well-known on these shores but not seen in the capital's main houses before, Marc Minkowski conducts a magnificent orchestral performance, with unflagging brilliance and supreme sensitivity throughout a long evening.
'an evening of great music-making and enthralling drama'
The singing from Sophie Bevan (Ilia), Malin Byström (Elettra), Matthew Polenzani (Idomeneo) and Stanislas de Barbeyrac (Arbace) is also world-class, so fear of adventurous stagings shouldn't put anyone off. Bevan proves herself again as among the finest sopranos now working in this repertoire and Byström's vampish 'other woman' is stunningly sung. Her final aria "D'Oreste, d'Ajace" is worth buying a ticket for alone. Polenzani's uptight tortured autocrat is also superbly sung and acted.
The one exception among the vocal leads is Argentinian counter-tenor Franco Fagioli as Idamante, who makes one of the strangest sounds I've ever heard, onstage or off. It's almost impossible to discern what language he's singing in, or even if he's using words at all, a shame because physically and dramatically he suits the role perfectly and is wonderfully sympathetic as the seemingly doomed son.
The Royal Opera Chorus excels once more in its all-important contributions, often delivered at gun point – one thing that Kušej overdoes, as black-suited thugs strut and wave pistols in people's faces a few times too often. There are other oddities in the direction – the chorus waggling plastic fish plucked from chip shop packages and Krystian Adam's pantomime-villain high priest suddenly leaping into the arms of a bystander – but they are passing moments and don't detract from a taut, sharp interpretation that mines the political and human aspects of the story and is never less than elegant in Annette Murschetz's deceptively simple settings.
The final series of haunting tableaux on a slow revolve during the long ballet sequence, conducted with tremendous freshness by Minkowski, is a highly memorable end to an evening of great music-making and utterly enthralling drama. One of the best premieres of the year and one that provides plenty to talk about as well as enjoy.