Review: Hot Gay Time Machine (Trafalgar Studios)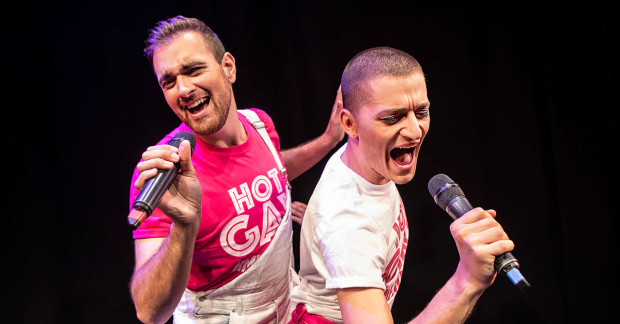 The term 'Camp as Christmas' has seldom seemed more appropriate than when attempting to describe what is going on downstairs at Trafalgar Studios this festive season. From the moment you get in there to be assaulted by banging dance tunes and yelled greetings from exuberantly rampant co-creators and performers Zak Ghazi-Torbati and Toby Marlow, and clock the Beyoncé cutouts, shimmer curtain and flashing coloured lights, it's clear that this is going to be no conventional piece of theatre. You're definitely not in Kansas anymore. Also, if you don't like being forced into audience participation, you'd best avoid the front row. You're welcome.
Marlow and co-author/director Lucy Moss are also responsible for the wildly successful Six, and HGTM – as it's emblazoned in huge mirrored letters across the back of Anna Reid's gloriously tacky set – offers a cursorily similar combination of catchy, derivative tunes overlaid with coruscating lyrics. Whereas Six ingeniously reinvents the wives of Henry VIII as a sassy girl group, Ghazi-Torbati and Marlow's subject for this bonkers cabaret is…themselves. Lucky then that they are such an engaging pair.
As the 'Time Machine' zips backwards and forwards, we get tongue-in-cheek re-enactments of their coming-out scenarios, plus a toe-curling moment when Ghazi-Torbati's strait-laced dad catches him trying on women's clothes, nights out clubbing in their gay infancy, and more, all interspersed with witty, if deafening, pop songs. Having scored a hit on the Edinburgh Fringe with HGTM, the boys cheerfully admit they have done little more than shoehorn-in festive references to prepare for this Christmas season ("we're busy, we're gay, we've got brunches to go to") and one of the recurring gags of the evening is seeing just how tenuous that can get.
Despite the flash and glitter of the surroundings, much of the show is devastatingly well-observed: I especially liked the "Over The Rainbow"-inspired number for a couple of grudgingly gay-accepting straight guys who lament that they no longer feel comfortable appreciating rainbows and unicorns. It's often flat-out hilarious.
If it's also a little relentless and heartless – every potentially touching moment is punctured by a bitchy put-down or outrageous chorus – the sheer charm of the performers means that it never quite tips over into obnoxious. Puck-like Marlow sashays on like a cute, preening cross between Millie O'Connell's BritPop Anne Boleyn in his own Six musical, and Andy Bell of Erasure in his 1980s prime. A natural clown, he's also a killer pianist, decent vocalist, sensational twerker, and works the audience like a seasoned entertainer: he's fabulous. Literally.
Ghazi-Torbati is the more low key of the pair – although 'low key' is very much a relative term in a show as hysterical as this one – but is equally good, unleashing a genuinely terrific, rangy singing voice, and crack comic timing. Also, he morphs impressively into a variety of figures from the boys' remembered past; I would love to see him in something with a little more substance in the future.
In all honesty, a show this random and up-for-a-good-time would probably work better somewhere like the Two Brewers or downstairs at Soho Theatre where the patrons have constant access to the bar, and the post-performance dance party could happen a bit more organically. Still, at 75 minutes long, it's just the ticket as the curtain-raiser to a Big Gay Christmas Night Out. It's going to make a lot of people very very happy.