Holly Williams: Are Nineties throw-backs a theatrical comfort blanket?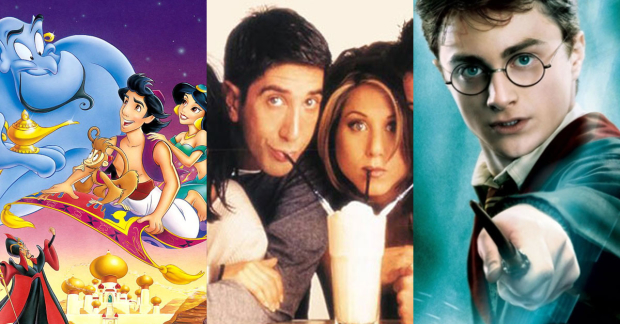 Do you know every single word of "A Whole New World"? Can you answer without a moment's hesitation which Hogwarts house you'd be in? Do you know exactly what a Ross and Rachel couple is? Congratulations: not only are you a classic child of the Nineties, but you're also now the theatre's new favourite customer.
Because kids who grew up on a diet of Disney movies, Harry Potter books and Friends on TV are now old enough to stump up for top-tier theatre tickets. And a sure way to the hearts of those in their late twenties/early thirties is through nostalgia: Nineties theatrical throw-backs are selling like hot cakes (or should that be Pop Tarts?)
Aladdin the musical opens in the West End this week, featuring the tunes of 1992 Disney movie for Millenials to get gooey over. Goosebumps , an immersive theatre experience which camply recreates RL Stine's spooky children's stories, offers a highly Instagramable combination of retro, half-remembered stories and Monster Blood cocktails. Two of last year's Edinburgh Fringe hits which raided the VHS drawer have enjoyed London transfers and are currently touring: James Fritz's Ross and Rachel tapped into our desire to know what happened to the Nineties most famous will-they-won't-they couple, while Superbolt Theatre's Dinosaur Park formed a loving homage to 1993's Jurassic Park.
Nineties kids don't bother about boundaries between high and low culture
This year, the Fringe hosts 2 Become 1, a comedy pop musical set in the Nineties, with a soundtrack of Spice Girls and All Saints. American Idiot, the touring Green Day musical soon to return to the West End, may take its title from the pop-punk band's 2004 album – but when they round the night off with a rendition of "Good Riddance (Time of Your Life)", just watch the young professionals in the stalls welling up at the memory of countless teenage campfire singalongs. And Yinka Ayinde has just announced a new play based on the cheesy American sit-com Keenan and Kel – relocated to, er, contemporary south London.
Then there's Harry Potter and the Cursed Child, arguably the biggest theatrical event, well, ever. The most devoted audience snaking outside the theatre are young grown-ups with a sense of déjà vu: they're the ones who, as children and teenagers, queued outside books shops at midnight for each new book.
In some ways this is a cheering trend: attracting new audiences is great, and delving into old material is pretty tried-and-tested way to do so. Why should Nineties pop culture be any less worthy of reinvention than, say, classic novels or movies? We're breezy about theatre-makers adapting Austen or Dickens, reworking Brief Encounter or Sunset Boulevard.
And my generation of Nineties kids really, genuinely don't bother about boundaries between high and low culture: a play might shift tickets because it's based on a sit-com, but there's no embarrassment or elitism attached to either of those formats really. We're happy to consume culture in every medium, and get excited when it cross-pollinates.
These shows seem like a symptom of cultural stagnation
Recent years have proved there's a huge market for using theatre as a cool, immersive live way to deliver a new experiences of treasured pop cultures faves, whether that's Secret Cinema taking you back to the future or hanging out in Twin Peaks' diner. And ticket prices can soar: without kids in tow, this generation has the disposable income to splash on unique experiences and trips down memory lane.
Ay, but there's the rub: can throwback theatre be both those things? The risk is that it becomes boringly predictable and safe, a theatrical comfort blanket. You know exactly what's going to happen in Aladdin. Goosebumps offers a thrill of hazy recollection – not the shock of the new. How can a Green Day musical feel anarchic and edgy, when all our pleasure receptors are massaged by familiar songs of our youth?
We all have the right to enjoy a wallow in the warm memories of our childhood now and then, but some of these shows seem like a symptom of cultural stagnation. Making theatre is risky and expensive; one guaranteed way to ease that risk is to use a well-loved existing franchise. But this also threatens to suck any artistic risk out of it, while hoping that Nineties kids will be so misty-eyed with nostalgia we don't notice we're paying simply to revisit the past.
Not all these Nineties shows are simple re-hashes, of course. Ross and Rachel brilliantly twists the rom-com myths Friends peddled us, while JK Rowling has been insistent that she'd never simply re-stage existing Potter stories – the narrative needed to move on. And who knows, maybe the new Kenan and Kel play will be a scintillating exploration of the troubling gentrification of Brixton… Or maybe it'll just be a lot of in-jokes about orange soda.