Review: He Shoots! He Scores! (Above The Stag)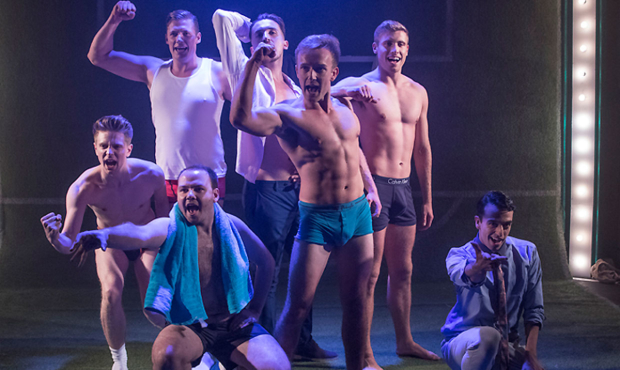 Jon Bradfield and Martin Hooper's He Shoots! He Scores! is a story of life-changing decisions and self-discovery wrapped in a salacious bubble of sexual innuendo (with belting tunes).
Country boy Joe (Jamie Barwood) travels to the big smoke to join the Hercules Harriers (London's worst gay football team) and leaves behind his partner Charlie (Richard Watkins) so that he can follow his dream. When he arrives, he discovers the Harriers are truly awful, spending more time drinking than playing – but undeterred, he is determined to turn them around.
Opening with a flamboyantly camp musical number, the show boasts a well-structured, catchy score, over-the-top choreography and, of course, men in their undies. The cast are fantastic, energetic and hilariously on point with their quick wit and well-timed jokes. Particularly notable is the brilliant Duncan Burt as the Alan Carr-esque Tayzr, who is the class clown with the show's best one-liners.
Joking aside, the show also manages to break down sporting stereotypes, negotiate the self-discovery of sexuality with a light touch and throw in a message about the importance of good friends.
There's a surfeit of choreography – especially during a love song like "Give me a kiss" – when it detracts from the overall performance, but the company gel incredibly well, with strong performances from Andrew Cannon (Dom), Harry Millar-Cooper (Pete), Danny Couto (Will), Tom Mann (Liam) and Joey Goodwin, who plays three roles. Above the Stag is an intimate venue but they light up the tiny stage the moment they prance out in their pants.
He Shoots! He Scores! runs at Above the Stag until 20 August.