An alumna of the Jette Parker Young Artists programme at The Royal Opera, Polish mezzo-soprano Hanna Hipp is currently on tour in Glyndebourne's sublime staging of Mozart's La finta giardiniera.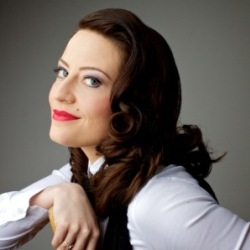 This is your Glyndebourne Tour debut. How did your relationship with the company develop, and can we expect to see you in the Festival itself in coming seasons?
Like many other young singers, I started in the Glyndebourne Chorus. Today, I often reflect upon the summer of 2010, an exciting and creative period of my life. I had just finished the Opera Course at the Guildhall School of Music and Drama and was about to commence my training at the National Opera Studio. The Glyndebourne Festival was not only my first ever proper opera job, it has also been an excellent preview of what a career of an opera singer was really about.
I returned to work for the company during the 2014 season. I sang the role of Flora in the new production of La traviata, which is touring at the moment. I will be returning to work for Glyndebourne next summer, singing La Chatte and L'écureuil in their stunning production of Ravel's L'Enfant et les sortilèges. Beyond 2015 I am obliged to wait for official announcements and not reveal my future plans just yet.
How important has Mozart been in your development as a singer, and which of his other roles have you already tackled or would like to tackle? Is there perhaps a Donna Elvira or a Sesto in prospect?
Mozart is at the core of a healthy approach to singing. It is by no means easy and in order to surmount the many challenges it is, I feel, essential to stick to good vocal technique and let the piece feed your musicality.
I have already done a full run of Cherubino [in Le nozze di Figaro] in Finland and have sung the role of Annio [in La clemenza di Tito] in a concert performance with Classical Opera. I will be singing Dorabella in Così fan tutte at the Opéra de Limoges. My dream Mozart roles are Sesto, Idamante and Donna Elvira so I am keeping my fingers crossed and my ears to the ground for future opportunities!
La finta giardiniera may not be quite as precocious a work as something like Mitridate, but it's still fairly early Mozart. Does this music feel noticeably different from his more mature writing, and what special challenges does it bring?
The main challenge with this role is that Mozart wrote it for the castrato Tommaso Consoli and therefore Don Ramiro has many extra issues to deal with being a mezzo. The coloratura, for example, is not as comfortable to sing as in the later works. I feel that Mozart was still experimenting when he wrote La finta giardiniera and had not yet established his true style and musical language; it is a premonition of what he would go on to be. Some of his writing reminds me more of the late Baroque period (Ramiro's Act 3 aria in particular) and not yet centred in the classical.
How sympathetic a character do you find Ramiro? Is he essentially the stock opera seria character of the discarded lover, or is there more to him than first meets the eye?
It all depends on the production and the director's vision for the piece. In this show Ramiro is a depressed, awkward, self-harming and lonely character. He collects dead birds and pins them, along side his poetry, to the walls of his secret cupboard. He appears out of thin air and his back story is not completely obvious and yet he is human and real especially when we look at him and his story of rejection by someone he loves obsessively.
You dipped a toe into quite a lot of Romantic repertoire (Eugene Onegin, Otello, Les Troyens) during your time at Covent Garden. Does more of this figure in your future, and where do you see your voice heading?
This is a difficult question to answer. It is one thing to say what I would like to sing in the future but then again I have to be true to my voice and my life and sing what is appropriate and right for me. I have enjoyed singing all sorts of music up to now and like to keep an open mind when opportunities present themselves to me. I like a good challenge. I am in constant discussion with the people I trust as to what is suitable for me at any one time and believe it is very important that I avoid pigeon-holing which, I think, is ultimately blinkering. I have many varied and exciting things coming up which I am looking forward to very much!