Gloria – A Pigtale (Norfolk & Norwich Festival)
One of the themes of this year's festival has been the blending of genres, and Mahogany Opera Group has created an opera with something of the cabaret about it. This has been done by reviving and translating the the Austrian 1990s opera by HK Gruber.
Set on an intimate stage with a curtain of sausages hiding backstage, Gloria – A Pigtale is the story of a pig (Gillian Keith) who is looking for love and who falls in love with a butcher (Charles Rice), mistaking his attention towards her as true love (rather than livestock for slaughter.)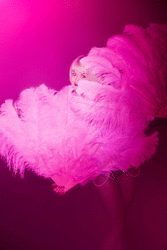 Eventually true love emerges from a wild boar named Rodney (Sion Goronwy), once he confesses his true feelings for her. The whole performance is lifted by the accompaniment of the Chroma Orchestra.
This, combined with the purple-hued lighting and subtle touches like the board on the right of the stage (reminiscent of the captions in a silent film), place the audience in Weimar cabaret age.
At times, though, there are slight refrains which nod to other musical influences and keep the knowing in the audience entertained. The bright gaudy costumes – either as tight-fitting body suits when sausages are on stage or burlesque-inspired outside the butchery – are a delight and further add to the cabaret ambience.
Keith as Gloria delivers a strong performance and offers the right degree of self-obsessed prancing that the character demands. Jessica Walker is a clear narrator with a knowing tone. Andrew Dickinson, Rice and Goronwy are satisfactory, though at times Goronwy as Rodney looks uncomfortable when acting and not singing.
There are certain elements of this piece that are lacking in fluency. Scene changes at the beginning of the performance and when Dickinson and Goronwy inflate pigs during the Intermission seem bizarre and inappropriate.
This is a shame because the set design of a curtain of wurst is brilliant at focussing the audience's attention on the performers while giving a sense of activity backstage that would be reminiscent of a busy abattoir.
The final scene seems very disjointed and surprising given what has preceded it. Director Frederic Wake-Walker seems to see this production as trying to widen the scope of opera outside of an intellectual box. While there is some great music to hear and spectacle to see, Gloria – A Pigtale is a confusing piece that might perplex those dipping their toes in opera for the first time.