Georgia Jarman, star of the Royal Opera's Król Roger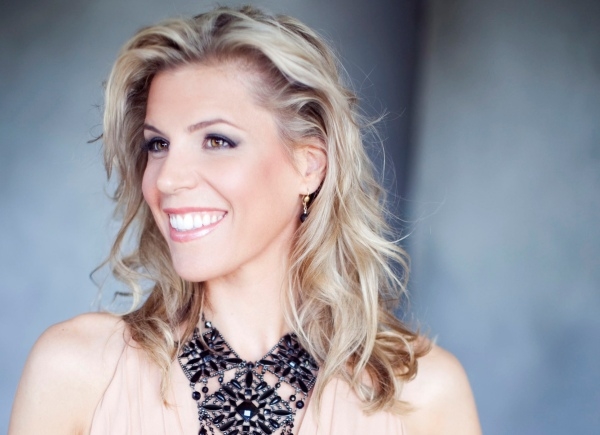 As the Royal Opera launches its first ever production of Szymanowski's strange and compelling opera Król Roger (King Roger), WhatsOnStage has a word with its leading lady, the American soprano Georgia Jarman.
Król Roger is rarely performed. What particular challenges do you find in Szymanowski's writing?
Król Roger is, indeed, rarely performed, but for that very reason I have enjoyed every minute of learning it. It's refreshing to get to create something from scratch, with no preconceived ideas. However – I will say that the Polish language has been a real challenge. Learning the proper Polish pronunciation is a serious task for a non-native speaker. In school a young singer will focus on gaining a basic comprehension of pronunciation and fluency in Italian, French and German (those being the most common operatic languages) but there are not a great number of operas in Polish and this is not generally a subject of study. Unravelling the complicated libretto for Król Roger in a language which was so unknown to me has been an added step and has required a great deal of patience. Luckily, the Royal Opera House has a wonderful Polish coach present in all the rehearsals.
Who is Roxana, your character? Is she already a three-dimensional character on the page or is that something you've had to work at?
Szymanowski writes Roxana some of the most hauntingly gorgeous music in the show and the richness and complexity of this music automatically gives her a strong identity, but finding out who she is beyond the music has taken some work. There is no strong historical basis for Queen Roxana to look to, nor is there much character-driven dialogue for her – she speaks in a sort of prose. There isn't much input from the composer as to the deep thoughts and personality of this Queen. The Roxana that [director] Kasper Holten and I have come up with is a strong woman, not afraid to say what she thinks. She's deeply in love with her husband and is, perhaps, the only person in the opera who can truly appeal to Roger's heart and soul.
Your character is the catalyst for the stand-off between a down-to-earth king and a hypnotic, irresistible visitor. There's a dreamlike quality to the drama; how have you and Kasper Holten approached staging it?
The libretto for Król Roger seems purposely enigmatic and poetic, leaving a lot of room for interpretation and, yes, it's quite dream-like at times. Kasper has known what he wanted staging-wise from the beginning, but he has managed to still allow me to feel that I am an important part of the process and that my thoughts and ideas are of value. This is certainly not always the case with a director.
This is your Royal Opera début. How have you found the experience?
The Royal Opera is a fantastic company – there's lovely energy there and brilliant, supportive people. And I did get a little thrill the other day walking into the theatre and remembering the last time I'd been there… many years ago with my father who had taken me to see a gorgeous production of Semele. We sat in a box very close to the stage – I was a music student at the time and I was practically hanging out of the box to get as close to the stage as possible. It was a happy memory – and it's kind of cool to be up there performing on that stage now!
I loved your performance as all four heroines in Offenbach's The Tales of Hoffmann for ENO in a Richard Jones production. What are your memories of that?
Richard Jones is one of the most exciting interpreters of opera working today and his unusual and visually exciting ideas made this production a superior one. He was always able to make clear to me what was in his mind and help me to bring his ideas off on stage.
ENO really assembled an amazing cast of British singers – Barry Banks as Hoffmann, Christine Rice as Niklausse and Clive Bayley as the Villains. I was lucky they took a chance hiring an American singer that was unknown in the UK.
The doll was hilariously choreographed and took weeks to get right but it was worth it. Richard Jones had a concept that Olympia the doll was a kind of entertainment at a children's party – and all the kids (chorus) found her kind of creepy as she was unveiled from behind a curtain perched atop a table. In reality, I was standing in a box with just my torso visible while a very sweet (and patient) guy who was hidden inside the box manipulated my "legs" – which were fake and did all kinds of unexpected things. It was a great effect. What people in the audience may not have known was that this poor guy was literally kneeling inside a dark box with his arms around my waist, and if I moved too quickly I would sometimes throw him off balance. It wasn't terribly comfy for me either. Oh, and sometimes those legs had a mind of their own and would fall off – creating some unplanned comedy….
Balancing on those stacked books in Act II was always a bit scary – luckily, Antonia was supposed to be looking frightened – and I was!
Your repertoire is so wide-ranging, it's difficult to pin you down. What are your favourite roles? And your dream role, as yet unsung?
I'm lucky to have had the chance to sing a wide range of characters and a relatively wide range of lyric and coloratura rep. Queens (many) courtesans (especially), abandoned women, a mechanical doll, virginal teenagers, Madame Mao, suicidal lovers…. I think becoming new characters is what keeps opera exciting to me. Vocally I'm most in my element in Bel Canto roles and try to have a Bel Canto approach to whatever I'm singing. I think the Donizetti Queens are my dream roles right now, and there's a lot of early Verdi I'd like to try. My dreams change though!
Favourite roles? All of them
Who are your mentors/teachers/role models?
One constant supporter during my career has been the brilliant musicologist, conductor, teacher and author, Will Crutchfield. I met him during my graduate school days when he taught The Handel Project at Manhattan School of Music. He is THE Bel Canto expert and his knowledge of singing and technique is beyond vast, which makes collaborating with him as a conductor a dream.
I also have a fantastic voice teacher, Trish McCaffrey, with whom I've studied since just after college. I still check in with her often, sometimes even over Skype.
What's the toughest thing about being a globetrotting opera singer?
Oh, where do I start? Traveling far and wide, setting up housekeeping in a new city, renting a car and clinging to your GPS, buying a new memory foam mattress pad for almost every bed you encounter, taking planes, trains and boats and keeping up your energy for your role—–these things are hard for every opera singer. But if one has a child, as I have a 2-year old daughter, life's difficulties are multiplied by a thousand. It is both physically and mentally difficult to care for a child all day and then rush off to the theatre, put on a costume and be on stage, ready to roll by curtain time. And then there is the subject of money and how it seems to disappear…