For Black Boys Who Have Considered Suicide When the Hue Gets Too Heavy in the West End – review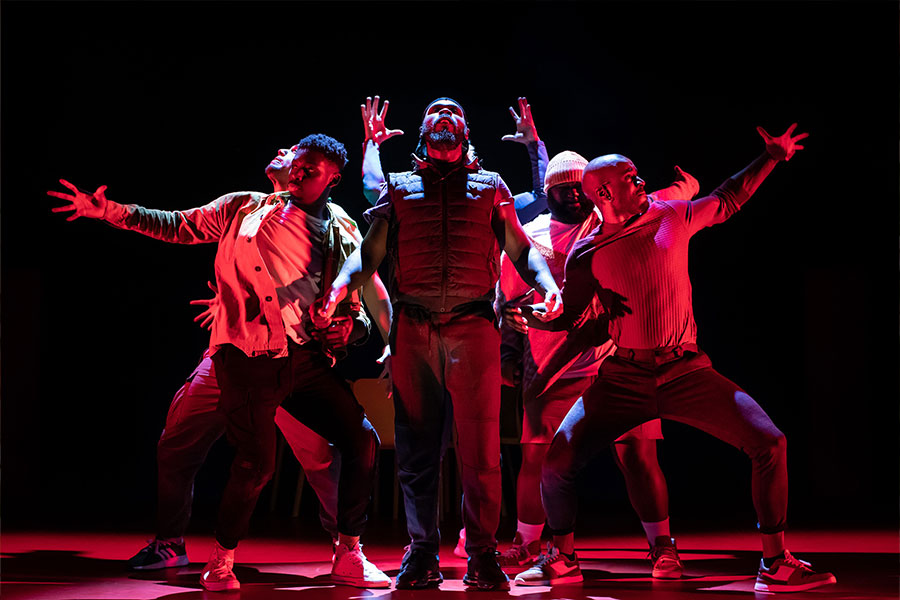 If there were a prize for best title, this play by Ryan Calais Cameron should have won at the Olivier Awards. Arguably the entire cast should have taken the prize for best supporting actor for which they were nominated.
Because it is this six-strong band of brothers – Mark Akintimehin, Emmanuel Akwafo, Nnabiko Ejimofor, Darragh Hand, Aruna Jalloh and Kaine Lawrence – who have lifted this exceptional piece from fringe favourite at the New Diorama via the Royal Court to the heady success of the West End. They have done so without ever losing the heart and warmth that makes this such an astonishing evening of theatre.
Inspired by Ntozake Shange's 1976 "choreopoem", For colored girls who have considered suicide/When the rainbow is enuf, this is an examination of Black masculinity that is at once searing and sympathetic. On Anna Reid's sparse stage, lit in bright colours by Rory Beaton, six men in a loose therapy group discuss their lives, their hopes, their fears.
They dive back to childhood to recall their first experiences of racism, to their teenage years to remember being harassed by the police. As grown men they talk about girlfriends, and colourism, and their fear of not living up to the image of what it is to be a Black man. They discuss fathers, ("no-one taught me about manhood"), mothers ("My mother once told me if you want to hide anything from a Black man hide it in a book") Black history and Black identity.
Each bears the name of a different shade of black, from Onyx (Akintimehin) whose tough front hides an upbringing of abuse, to Obsidian (Jalloh) who is more inclined to an optimistic view. Together, the six of them grapple with issues of self-worth and low self-esteem. The shadow of suicide hangs over each of them as they struggle to feel beautiful in a society that too often declares them ugly.
Yet for all the weight of the themes, their expression is lively, often full of fun, even joy. There's a marvellous moment towards the end when Jet (Ejimofor) breaks down as he describes the impossibility of being gay in a religious Black culture that "deems homosexuality as a white man's perversion" and Onyx hugs him, then breaks away and gives him a little embarrassed punch on the shoulder. It's beautifully real.
The walking of that tightrope between deep sentiment and high humour, between political thinking and comic descriptions of everyday life is cleverly handled and made all the more resonant by an audience that hmms along with all they agree with, joining in the words and rhythms of the songs (sound design by Nicola T Chang) that punctuate the narrative.
The direction (originally by Tristan Fynn-Aiduenu, with Calais Cameron responsible for the transfer) keeps things beautifully fluid, and finely calibrated in terms of tone. But it is Theophilus O Bailey's movement direction that adds another layer of meaning and feeling. The evening begins with the men bound together in a supportive group of flailing limbs before Jet steps forward into a krumping solo that seems to sum up his difficulties in "stepping into his promise."
Thereafter, they move like silk through Power Ranger poses, R&B anthems, rap and disco. They dance to say what they need to say when words fail them, as they express their friendship and support for one another.
For all its energy, the show still feels slightly too long. Yet it adds up to a remarkable evening, its themes enlivened and illuminated by laughter and affection. It is quite something.