Review: Equus (Theatre Royal Stratford East)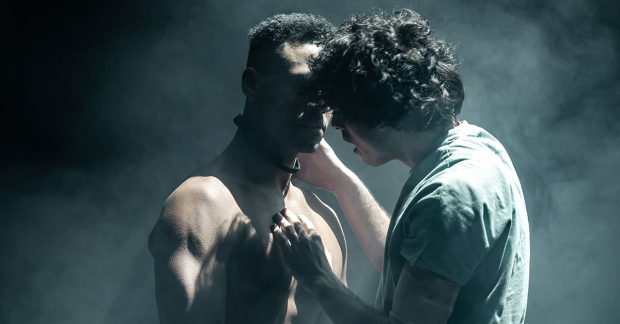 Equal parts ritual, psychodrama and courtroom thriller, Peter Shaffer's astonishing 1973 play is probably best known to younger theatregoers as the West End show where Harry Potter came of age. The 2007 Thea Sharrock revival, subsequently presented on Broadway, marked Daniel Radcliffe's adult stage debut as deeply disturbed teenager Alan Strang, who blinds a stable full of horses while in the throws of (literally) naked hysteria, opposite the late Richard Griffiths as Dr Dysart, the equally troubled psychologist trying to help him.
Shaffer's compelling, literate script is a potent mix of bold theatricality, psychological insight, repression, religious fervour (Alan both worships and fetishes horses), and sexual awakening, with the added tang of classical mythology (Dysart is fascinated by the ancient Greeks and traces a direct line between his own obsessions and the cult-like devotion of Alan to the horses, and by extension the equine pagan god that gives the play its title). It's a lot to take in but it grips like a thriller, and is shot through with enough piercingly accurate human insight and mordant humour to make the more extreme aspects of the play bearable, if not exactly palatable.
As the child psychiatrist whose own personal life is far from satisfactory and is haunted by the idea that 'healing' can also mean robbing an individual of all their passion, Zubin Varla is extraordinary. Placatory and soothing when in professional mode, he is possessed of a jagged energy and manic stare when baring his soul to Ruth Lass' entirely convincing barrister friend; he handles Shaffer's lengthy, muscular speeches – arias almost – with the assurance of a master, and captures every ounce of this complex man's conflicting brilliance, self doubt and hypocrisy. He is stunning.
The role of Alan requires full throttle commitment for the play to really work, and Ethan Kai delivers in spades. He's vulnerable, frightened/frightening, appealing, repellent and apparently fearless: a star-making performance. As the young woman instrumental in his unravelling, Norah Lopez Holden is a truthful, engaging breath of fresh air. Syreeta Kumar and Robert Fitch are superb as the parents who realise far too late that their own misery and mistrust has overwhelmingly contributed to Alan's.
Having excelled with crackerjack productions of new scripts (An Octoroon and Pomona both deservedly ended up at the National) Ned Bennett here stakes another claim to being hailed one of the most exciting directors of his generation with this enthralling, imaginative take on a modern classic. He honours a vivid but tricky text (there are moments where Shaffer could almost be daring us to laugh inappropriately) but also casts it in an exhilaratingly fresh new light.
Technically this is a show that takes the breath away. Georgia Lowe's white curtained box of a set simultaneously suggests padded cell, blank space and the endless possibilities of a dream, right up until the shattering coup de théâtre at the end where we are left with a couple of broken (or healing?) human beings and Jessica Hung Han Yun's searing, unsettling lighting design. Giles Thomas' melancholic, supple music and sound design contribute immeasurably to the uncompromising overall vision, as does Shelley Maxwell's ingenious movement direction which sees uncommonly beautiful actor/dancers Ira Mandela Siobhan and Keith Gilmore transform into credible horses before our very eyes.
Tantalisingly situated at a point somewhere between Dysart's feverish nightmare and Alan's guilty orgasm, this is haunting, engrossing theatre. Troubling, rich and riveting, it's a must-see.