Review: Death of a Salesman (Young Vic)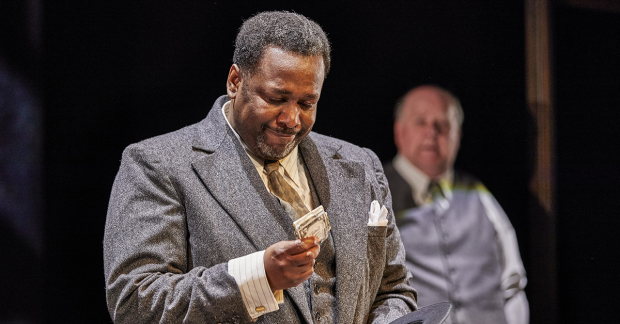 Marianne Elliott and her team are proving they have a palpable gift for shaking up a classic. With her gender flipped Company just finished in London – where the show's 35 year-old bachelor Bobby was turned into 35 year-old bachelorette Bobbie – this production of Arthur Miller's play, co-directed with Miranda Cromwell, is turned into an African American tragedy.
The result is a transformative, brilliant staging which offers a dazzling new look at a dazzling play, demonstrating once again that Miller's words, written in 1949, can speak across ages, times and cultures.
At the centre of it all is Wendell Pierce as Willy Loman, the salesman who for 35 years has driven the roads and highways of America peddling his wares. Pierce's Loman cuts a large, shuffling figure, which betrays his exhaustion easily. His arms hang about his sides, his feet turn in, he's a shadow of his former self, tired with never managing to be 'number one'. In Loman's daydreams – echoes and memories of his past life, where he is like a god to his two young sons – Pierce's chest sticks out, all brash and confident. When he arrives back in reality his puzzled brow and verbal and physical ticks take over.
As his faithful wife Linda says, Loman is not a great man, but he longs to be one. And it's a feeling of being trapped which really comes through in Cromwell and Elliott's production. On Anna Fleischle's grey stage, all Escher angles that climb to the ceiling, you can't help but see the Lomans as prisoners. Fleischle has the windows and doorways float down on wires and we see the Lomans looking out, stuck within. Their house, just one month away from the mortgage being paid off, is a jail, tying them to seemingly unending payments, neighbours, daily drudgery, and living a life only moments from the breadline. Loman has dealt with the pressure for a long time, but it has worn him down to breaking point.
Miller's text remains unchanged, but there are lines, little moments and glances, subtly emphasised, which nod to how this family, living only 80 years after the end of the slave trade, are seen in society. Achieving the Great American Dream may have been firmly in Loman's mind throughout his life, but, we come to understand, his dream could never have been a reality. The Lomans may be free yet are still shackled.
The play remains a delicately observed family tragedy, and it is this terrific cast which makes the complex relationships sing out. Pierce is magnificent as Loman, alongside the controlled and rock-like Sharon D Clarke as Linda. Clarke makes the part her own, demonstrating how Linda's drive and quiet determination to get what they want holds the family together. At the end, it is her incomprehension of what has happened that is the most affecting. They were so near to achieving their goal.
Arinzé Kene and Martins Imhangbe play off each other beautifully as Biff and Happy the two brothers who are so different. And Kene's mix of emotionally intelligent, yet broken young man makes us understand acutely how his relationship with his father has ruined him. Kene is raw and lost and throughout the play he makes such a clear, remarkable journey to realising what he wants and needs. The scenes with all four of them together feel as though you are eavesdropping on an actual family, so real are they.
The piece is infused with jazz and song, using the cast's many monumental singing voices to transporting affect. It is a low, unhappy mournful build in climax and by act two it is clear there is nothing that can be done. A vital, truthful and vivid production and the latest surefire hit from this remarkable team.