Calm Down, Dear (Camden People's Theatre )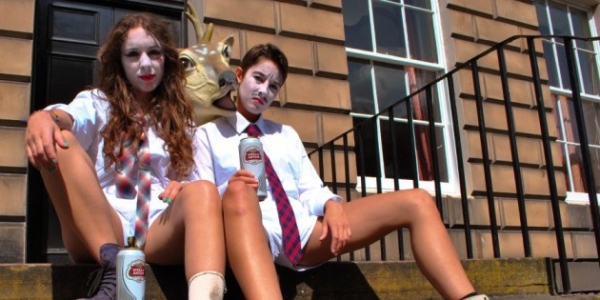 For the second consecutive year, Camden People's Theatre is opening up a dedicated space in its programme for feminist performance and discussion. Running throughout September and October, Calm Down, Dear includes shows from Hannah Silva, Susannah Hislop and The Ruby Dolls, opening with a double bill of Women's Hour and Pretty Ugly.
In Women's Hour, Sh!t Theatre (spoiler: not shit) use the frame of the long-running Radio 4 show to take a funny but fierce look at what it means to be a woman today. Electric duo Becca and Louise take a hilarious swipe at everyday (and not so everyday) sexism, lacing their laughter with rage. In sketch after sketch, the inequalities of modern society are ridiculed and critiqued in the same breath, defying any suggestion that feminism lacks a sense of humour.
The style is riotous and fragmented, but the structure allows it to be so. The attempt to talk comprehensively about women in a mere 60 minutes is a ludicrous one and Sh!t Theatre know it. So their variety show mash-up of modern feminism and womanhood can be freewheeling and wide-ranging, taking in everything from gender specific toys to sexual violence. Meanwhile recurring segments – in which Becca and Louise "talk dirty" or sing the praises of various shoes – give the show some shape.
As an introduction to the festival, Women's Hour acts as a swaggering, smart and side-achingly funny statement of intent. Its wit is relentless, whether Becca and Louise are mocking gendered advertising or exposing the insidiously sexist media agenda. And while some sketches are a bit rough around the edges, the performers have more than enough confidence to pull off the more wonky sequences.
Louise Orwin's show, by comparison, is more fragile – though you might not think it from the opening sequence. Pretty Ugly begins with Orwin on the floor, singing Britney Spears' "Oops I Did It Again" into a camera projecting onto a screen behind her. It's bold, brash and hilarious. But like the teenage girls Orwin's show is interested in, the confident exterior conceals vulnerability and confusion.
Pretty Ugly is about the internet phenomenon it refers to in its title. Increasingly, teenage girls are posting videos of themselves on YouTube that ask one question: am I pretty or ugly? The comment boxes below are a horrifying cesspit of trolling and misogyny, as Orwin soon discovered. Over a period of 12 months, she posed as three separate teenage girls online, using this very hands on form of research to reveal something about the craze.
What she discovers and presents in the show turns out to be as much about herself as the trend she was concerned by. As Orwin tells us, she started out an artist and ended up a teenager. There's something fascinating and troubling about the position of vulnerability that Orwin puts herself in, as well as the dynamic of sitting in the audience to watch her go through it all again. Equally troubling is the trend itself and the submerged sexism and insecurity that it exposes.
Ultimately, we learn little about the pretty/ugly phenomenon beyond the craze itself; the psychology and the social causes behind it are only ever gently prodded at. But it's impossible not to be moved by Orwin's final gesture, which – together with Women's Hour – sends audiences back out into the world both saddened and galvanised.