Brokeback Mountain at @sohoplace – review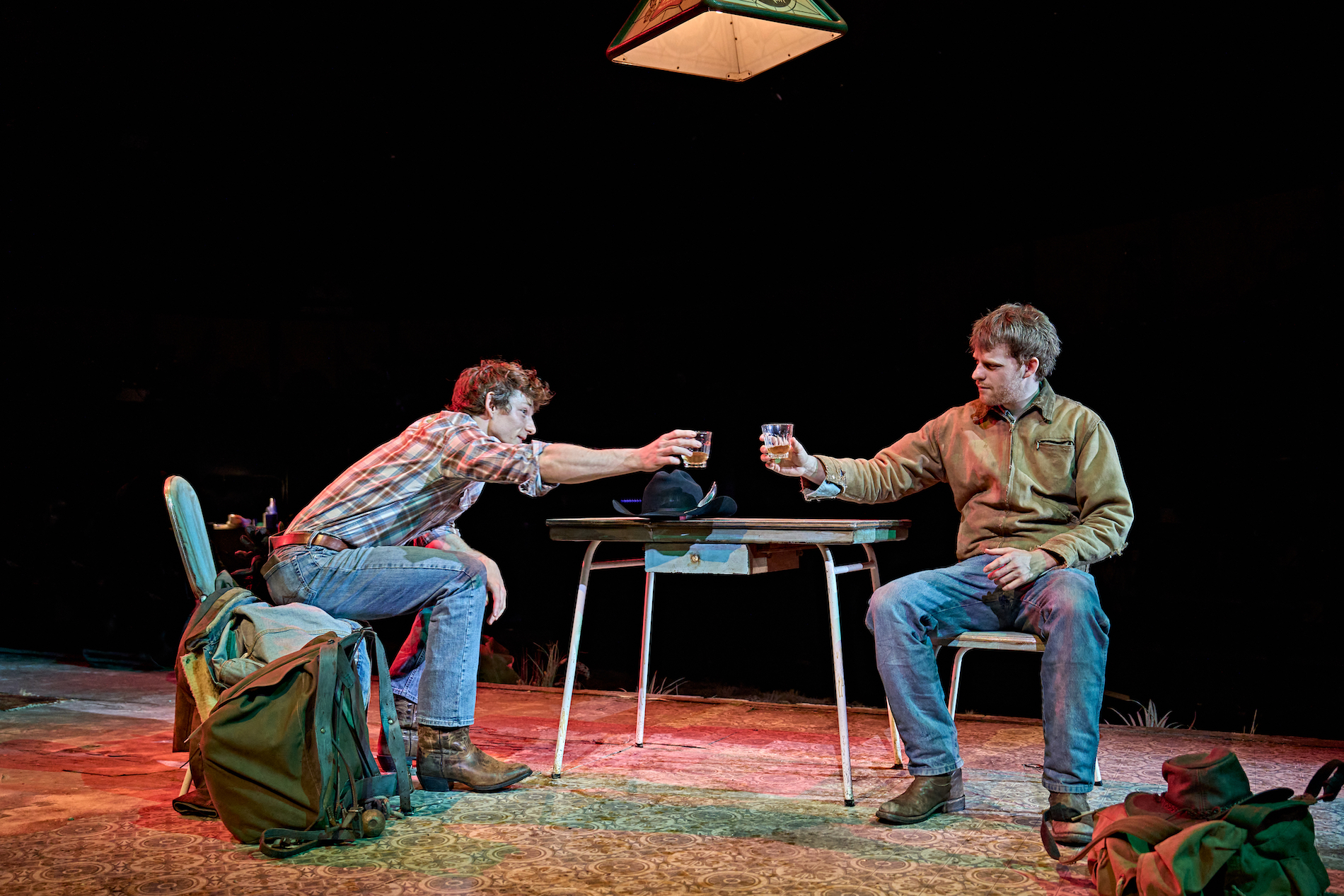 After the book and the film comes the play. With songs. Annie Proulx's tender short story of two cowboys who meet on Brokeback Mountain and find a love that shapes – and destroys – their lives, is an impossibly moving tale for our times.
It cannot fail to work some of its magic here, especially with casting that brings to the West End stage two American stars, Mike Faist (Riff in Steven Spielberg's West Side Story) and Lucas Hedges (of Manchester by the Sea fame). Plus, it has songs by Dan Gillespie Sells who wrote Everybody's Talking About Jamie.
With Eddi Reader singing at the front of a fine live band, including wailing harmonica, they fill the air with a melancholy beauty, an understanding that in the not-too-distant past, the draft and Vietnam was not the only thing that threatened the lives of gay men. Even within the city setting of a London theatre their lyrics of longing and of landscape – "Dawn comes in/Glassy and orange and slow" – conjure the spirit of freedom and natural glory that is part of Brokeback's story.
Tom Pye's straw-surrounded set, with a real fire burning, does a similar job of hinting at the open spaces of the American West, helped by David Finn's lighting, and a soundscape by Christopher Shutt, complete with sheep, dogs and coyotes. Where this new version of Brokeback Mountain struggles is in finding a way to let the emotion penned within the story fly; it feels confined in feeling, not in action.
It's a debut play from writer Ashley Robinson and he has shaped the tale into a neat, pointed structure, framing it (like the novella) as a memory, seen through the eyes of Paul Hickey, playing Ennis in old age. From the moment Faist's expansive rodeo rider Jack and Hedges' silent ranch hand Ennis meet in the opening scenes, the other characters (all the men played by Martin Marquez) are bit players in their drama of desire at once fulfilled and frustrated.
Robinson's adaptation – which sticks pretty close to Proulx's language – has honoured the taciturn quality of the story. Not much is explained. But where on the page, the words can land with a peculiar power, and on screen you live in the landscape with the men, on stage quite often the action becomes bitty, swinging from scene to scene, year to year, without ever finding a way to give the relationship space to breathe.
One moment Jack and Ennis seem to be strangers, the next – without much warning, or a sign of a spark – they are grappling (discreetly) inside a tent. The intimacy between them is established but not the depth of their affair over 20-odd years. It's a big ask for a play to establish that kind of arc, but Butterell's slightly frantic direction increases the sense of speeding along the surface and the device of having the older Ennis watching the action feels intrusive rather than illuminating.
The two leading performances, however, are finely drawn. As Jack, Faist has a slow-spreading smile and a sense of pent-up urgency as he dreams of a life without shame, with Ennis by his side. The scene where Ennis rebuffs his suggestion that they live together because he so badly fears that their love will lead to their deaths is beautifully and feelingly handled, and throughout Hedges, with tiny gestures and expressions, powerfully suggests a man whose pain is both unseen and insoluble. Jack's "if you can't fix it, you've got to stand it," becomes the mantra that shapes and distorts his entire life, including his relationship with his wife Alma (given an angry dignity in only a few moments on stage by Emily Fairn.)
The moment where the two men stand, arms around each other, in the moonlight, as the music floods around them is a sign of what this play with songs could have been. It remains a story full of feeling, but never quite rising to the heights of poetry and meaning that you expect.