A Little History of the World (Watermill, Newbury)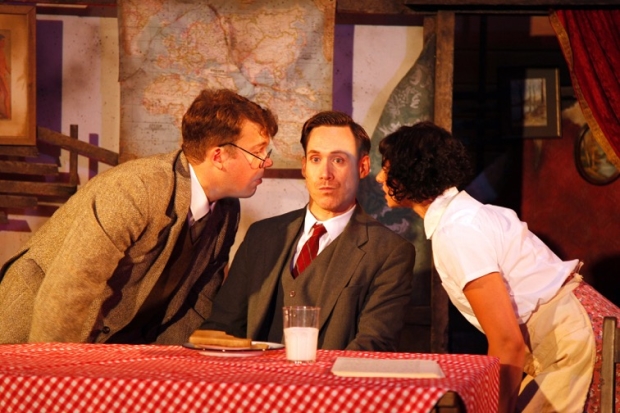 In a programme note, director Paul Stacey remembers the Ladybird Adventures in History series of books, his childhood introduction to history. I remember the fun and excitement of the colourful little books myself and as I watched this charming, articulate production, it also brought to mind such tomes as Our Island Story, another highly-coloured canter through British history via the highlights of the stories of monarchs and their foibles and what the authors saw as the romantic events of their reigns (think Alfred burning the cakes and the Princes in the Tower, all lavishly illustrated).
I hadn't come across E.H. Gombrich's A Little History of the World, but it seems his family-friendly volume was introducing world history plus some rather big concepts to young German-speakers from its publication date just three years before the outbreak of World War Two.
It's a rather wonderful idea to bring the book to a family theatre audience, where young members might find out some historical fact for the first time or gain a new insight into an already well-known story thanks to writer Toby Hulse's quirky stage realisation of Gombrich's equally quirky take on history.
Taking his cue from the story of how the German-Jewish born Gombrich (who was to become an influential art historian after his flight to Britain in 1939) rose to the challenge of writing his first book in just six weeks, Hulse has Gombrich enlist his publisher, Otto and his mother's piano pupil, Ilse, to meet weekly to act out the results of his feverish research and writing.
The trio, Alasdair Buchan's winningly articulate Ernst, Richard Ede's delightfully perplexed Otto and Jess Mabel Jones' delicious Ilse work their way through the highlights of the millennia with ingenious visualisations, creating tableaux and scenarios with minimal but clever props and costumes, nicely moved by Lee Lyford and effectively underscored by Max Pappenheim's soundscape on Victoria Spearing's simple 1930s study set, which magically opens out when necessary to encompass the Acropolis and tournament fields, thanks to Simeon Miller's lighting.
The very first cavemen are a good example of how Hulse channels Gombrich's highly original eye-opening ways into a story. The historian proves that cavemen should be considered the greatest inventors in history by casting Ilse as a waitress in a stone-age restaurant where the fare on offer seems meagre until she makes you realise the enormity of the inventiveness required to produce it – even a bowl of sour milk porridge requires the invention of animal husbandry and harvesting crops!
Ilse cottons on fast and proves no slouch as an inventor herself playing Leonardo da Vinci (on this showing it's no wonder Gombrich fell in love with Ilse, who became his wife). The powers of superheroes are invoked as the trio morph into 'Captain Tolerance', 'Reason Girl' and 'Humanity Man' to explore philosophy. Later the quick-fire wit of the Marx Brothers comes in handy to explain planned obsolescence.
The show has been touring village halls in Berkshire and farther afield and has arrived at the Watermill en route for Reading Rep just in time to make a perfect summer holiday family treat.
A Little History of the World runs at the Watermill, Newbury until 25 July. Click here for more information and to book tickets.