Richard III (St Paul's, Covent Garden)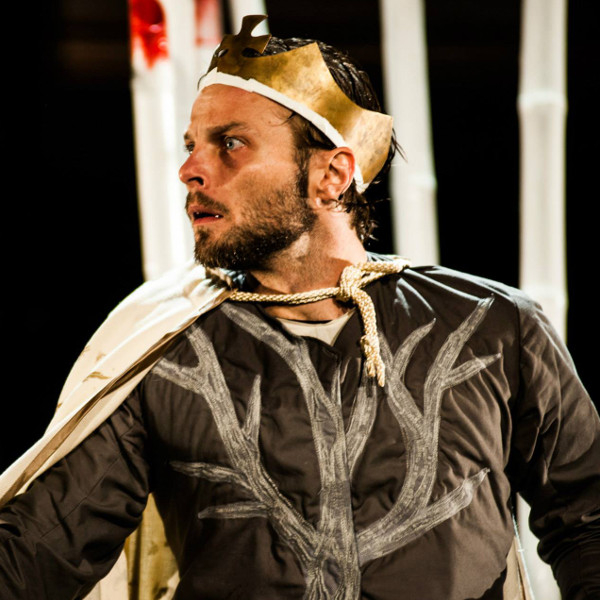 The hatred, scorn and insults piled on the Duke of Gloucester throughout Richard III would be enough to turn anyone nasty. But in this production, director Daniel Winder fills us in on why Richard is the object of such loathing, by opening with the final scene from Henry VI part 3, when Henry's heir, Prince Edward, loses his life at the brutal hands of all three Yorkist brothers – including Richard.
The curses of his bereaved mother, Queen Margaret, rain down on the trio, and in the ensuing tragedy countless lives are lost through Richard's thinly disguised ambition to take the crown for himself.
This is no quasi-regal Duke. The outstanding David Hywel Baynes plays hunchbacked Richard as a sweaty, ill-dressed, accomodating younger brother whose public demeanour never suggests the kingly ambitions he harbours – until there's no going back.
Hywel Baynes uses the open-air promenade spaces around St Paul's church to communicate directly with the audience, and despite the chaotic, Rik Mayall-esque edge to his performance, his beautiful verse-speaking brings crispness and clarity to Richard, as well as making the intricacies of his sinister plots crystal clear.
There's powerful support from all the cast, including Mark Hawkins, whose creative use of contact lenses makes Queen Margaret a thoroughly unsettling figure.
Clarence's prophetic account of a nightmare about being drowned is delivered with poignancy by Nick Howard-Brown, who reappears later as a dashing but doomed Duke of Buckingham.
Poor Lady Anne Neville, whose righteous fury is soon fuddled by Richard's cunning way with words, is played with fire by Anne-Marie Piazza, who also sings magnificently when the action moves inside the church, and Laura Wickham brings pathos to Queen Elizabeth.
Designer Maria Koutsouna, construction manager Nigel Winder and lighting designer Ben Polya have embraced all the potential of this beautiful London church and its grounds for scene setting, with stark red and white poles stuck in the grass to signify the warring colours of York and Lancaster.
They've also designed Richard's pre-battle nightmares with dramatic intensity, although some of the power of the ghostly visits from his victims is lost in this interpretation. However the final image we are left with after Richard's death – seen in front of the altar within St Paul's – is simply breathtaking.
With the extra opening scene this is a long evening spent mostly out of doors, so extra layers are advised. But the beauty of St Paul's, and the attack of Daniel Winder's production make it well worth the effort.