Tamzin Outhwaite, Jemima Rooper and Nicholas Burns to star in Breeders at St James Theatre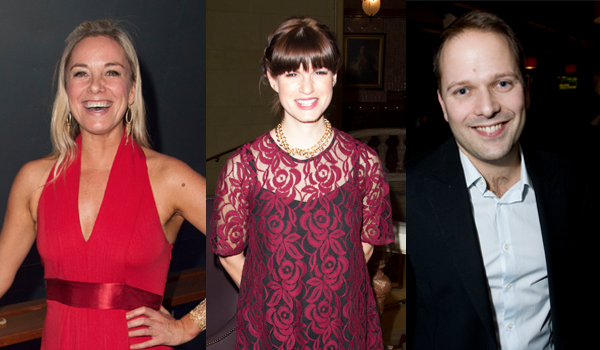 Casting has been announced for Breeders, a new comedy by Olivier-nominated and BAFTA long-listed writer Ben Ockrent, which opens at the St. James Theatre on Wednesday 3 September.
Breeders follows the story of Andrea, and her wife Caroline in their quest to have a child that shares both of their DNA, with the help of Andrea's brother, Jimmy. Starring as Andrea, Tamzin Outhwaite returns to the stage after recent roles in Hampstead Theatre's Raving and Di, Viv and Rose. Nicholas Burns, best known as Channel 4's Nathan Barley, takes the role of Jimmy. Jemima Rooper will play Jimmy's girlfriend, Sharon. Jemima was last seen onstage in Blithe Spirit at the Gielgud Theatre opposite Angela Lansbury.
Directed by Tamara Harvey, the play is inspired by Ockrent's real-life experience and offers a new perspective on how and why we make babies.
Andrea and her wife Caroline have it all: great jobs, a loving relationship and a new home. There's just one thing missing: a baby. Amidst the drink-sodden traditions of a family Christmas, they have an idea: if nature can't give them a child that shares both their genes, perhaps Andrea's under-achieving brother Jimmy can? When he and his girlfriend Sharon agree, the four are forced closer than any family expects to be. Will this be the perfect solution? Or a recipe for disaster?
Vicky Graham Productions will bring Breeders to stage as part of the ONE STAGE season running September – December at the St. James Theatre. It is supported by Stage One, the charity which supports emerging commercial theatre producers.
Writer Ben Ockrent commented: "Some years ago, when a good friend asked me to donate my sperm for her and her girlfriend to conceive a child with, I was struck by the scale of the decision. Whilst I had every confidence in their ability to parent, it felt like there was an almost unfeasible amount riding on my answer. So, after they granted me some thinking time – years, as it turned out – it occurred to me that my wrangling could be an interesting set-up for a play. Discussing it with the couple over dinner, the story for Breeders (a quite different one to ours) emerged. Like this production, there'll have to come a point when the curtain comes up on my personal answer to my friends' request. The play starts previewing on September 4th. It's as good a date as any."