Young Vic's View From the Bridge is a resounding hit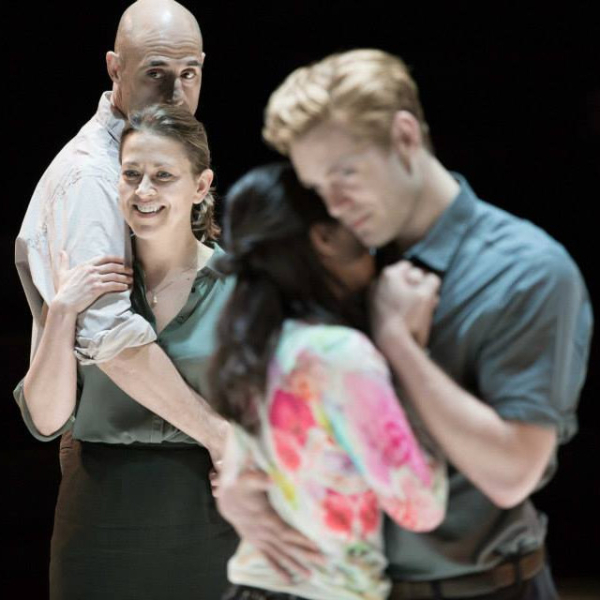 Michael Coveney
WhatsOnStage
★★★★★
…the return to the stage after twelve years of Mark Strong, and he sure cashes in his chips as a genuine leading actor in this stark, rumbling, hothouse production by Ivo Van Hove… A certain amount of parochial, street-level joshing goes missing, but there's one great moment… that no "traditional" version I've seen has rivalled in theatricality or sheer threat. Some may find the constant rumbling of the Requiem Mass over-portentous, but I feel it supplies the tragic glue to the bumpier domestic writing and does for the play surely what Miller wanted but didn't pull off himself… Strong's baffled rage and sexual confusion is complemented by the fantastic heart-broken heaviness of Nicola Walker's helpless Beatrice and the spry, not-too-girlish fierceness of Phoebe Fox's Catherine…
Michael Billington
Guardian
★★★★
…his highly impressive revival of Arthur Miller's 1955 Brooklyn drama… The ominous mood is reinforced by the requiem which plays subliminally throughout the two uninterrupted hours of the action… But, for all the production's visual brilliance, I don't believe it invalidates the more traditional approach… That is not to deny the rich behavioural accuracy or high quality of the performances in this exceptional production. Mark Strong's Eddie combines physical weight with inner confusion… There is also strong support from Michael Gould… Phoebe Fox as the innocently sensual Catherine, and Emun Elliot and Luke Norris as the Sicilians. It's a forceful production that offers a radical alternative to the conventional realistic approach to Miller's tale, without necessarily displacing it.
Henry Hitchings
Evening Standard
★★★★★
Ivo van Hove's account of this frequently revived Arthur Miller play is bruising and revelatory. It has a startling simplicity — a lean, muscular sense of forward movement and urgency… The design is by Jan Versweyveld, who creates a forceful, potent impression of the characters being trapped… Phoebe Fox, brilliant as an ingénue who turns into a rebel… Strong brings a remarkable mix of weight and poise to Eddie… Luke Norris's Rodolpho is bright and effusive… Nicola Walker is superb as Beatrice… This is the first time that van Hove has worked with British actors, and the Young Vic's artistic director David Lan has achieved a real coup in bringing the Belgian here to stage this magnificent, electrifying production.
Paul Taylor
Independent
★★★★★
The Belgian director Ivo van Hove has taken a drastically non-naturalistic approach to Arthur Miller's 1955 drama, set in Brooklyn's Italian-American neighbourhood, and the stripped-back intensity of focus is emotionally devastating… The action is elegiacally underscored from the outset by sections from Faure's Requiem; the claustrophobic atmosphere of foreboding is almost unbearable… Mark Strong's superb performance, all seethingly repressed jealousy and dangerous, brooding denial… The production strikingly heightens the testosterone-charged climate of masculinity under threat… Nicola Walker and Phoebe Fox are excellent as the wife and niece who suffer terribly from the protagonist's desperate refusal to see what is obvious. By the end, the audience is shaken by an overwhelming sense of catharsis. Unforgettable.
Charles Spencer
Daily Telegraph
★★★★★
…this staging of A View from the Bridge (1956) is one of the most powerful productions of a Miller play I have ever seen. It breaks the surly bonds of naturalism and the conventions of the well-made play to create a work of seething intensity and savage beauty… By the end you feel both emotionally drained and unexpectedly elated… The acting is superb… Mark Strong captures his terrible disintegration with raw pain, inarticulate passion, and emotional and physical violence… Nicola Walker movingly captures the agony of his wife… There is outstanding work too from Emun Elliott and Luke Norris… and from Michael Gould as the increasingly anguished lawyer-narrator… I left The Young Vic in no doubt that I had seen a great, fresh-minted production of a modern classic.